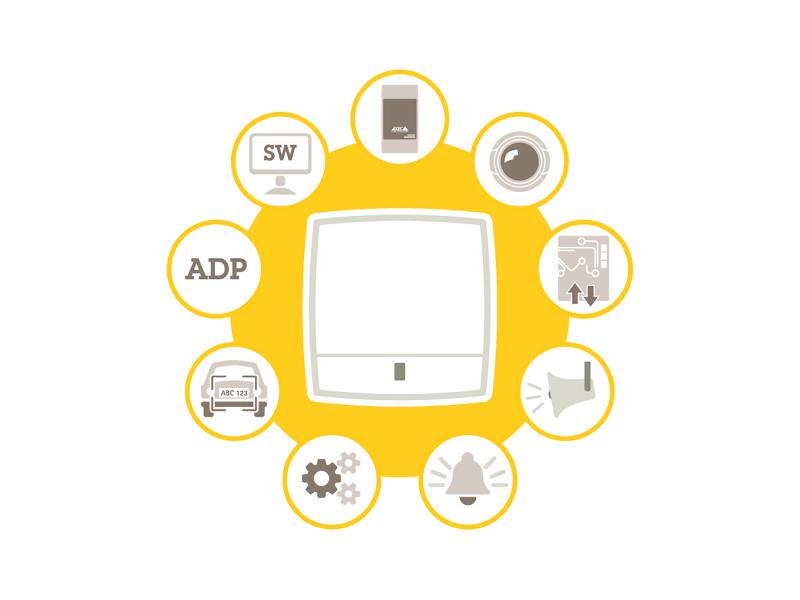 Open IP-based access controllers
Axis network door controllers are non-proprietary and open IP-based access controllers, suitable for small and medium-sized businesses, as well as larger enterprises.
Customers are increasingly asking for systems that allow them to manage video, access control, intrusion detection, building management, etc. from a single interface. This represents an opportunity to expand, for example, your video management system to also include access control management.
Integration paths
There are different paths to the integration of network door controllers.
For AXIS A1001:
The embedded software module in AXIS Entry Manager gives you the basic access control capabilities for a small system of 1-33 doors. APIs and examples are available in the VAPIX Library.

For AXIS A1001 and AXIS A1601:
Use the integration tools and APIs below to pinpoint the features and functions that are important for your market and customers.
Use one of our partners' access control software platforms for the back-end processes and administration of credentials.

You can see a description of the differences between AXIS A1001 and AXIS A1601 in this infographic.
Integration tools
Axis has been deeply involved in developing the ONVIF profile C and A specifications, and our network door controllers conform to these profiles. However, new features are usually first introduced in VAPIX, since it takes some time to get them supported via ONVIF. Axis specific-features are only supported via VAPIX. 
Feedback from partners who integrated Axis network door controllers in their software has been very positive. The integration was fast, easy and very smooth.
NOTE: Be sure to always use the latest firmware version for your network door controller.