AXIS Site Designer
Faster from draft to done
Design any surveillance system with VMS and products from Axis or partners
Plan camera placement and coverage easily with maps
Create quotations and project documentation in minutes
Import camera and recording settings into your VMS
Share notes and installation instructions with installers
Multiply your design potential
AXIS Site Designer is the only tool you will need for design of surveillance systems going from a design draft to project completion. This intuitive tool simplifies and streamlines your design, quotation, and installation workflow, making projects faster and easier to create, revise or implement. It lets you efficiently manage any project—whether you need to create a system with thousands of Axis devices connected to it or just a few.
Any project, anytime, anywhere
Access AXIS Site Designer directly from your favorite web browser on your tablet or PC – there is nothing to download or install. This free web application works both on- and offline, saving your work in your browser while you are offline. So you can use it at your customer's site or wherever you are. AXIS Site Designer can be used to design surveillance systems featuring AXIS end-to-end solutions as well as systems using products from selected third party VMS vendors such as Genetec and Milestone. It makes it easy to design, install and configure systems using AXIS Camera Station and AXIS Companion. You have the possibility to export all configurations to AXIS Camera Station to eliminate installation mistakes.
Multiply your time savings from start to finish
With AXIS Site Designer, there is no need to switch between different tools to get the job done. It has been designed for maximum efficiency when finding the right products, estimating bandwidth and storage, and working with floor plans. You can easily create the right system to fit the exact operational requirements and needs of a client. The intuitive maps-feature in AXIS Site Designer allows you to add floorplans or maps of the target site, so you can place cameras and devices and view the coverage they will provide. This means all requirements are met, including eliminating any issues such as blind spots before implementation.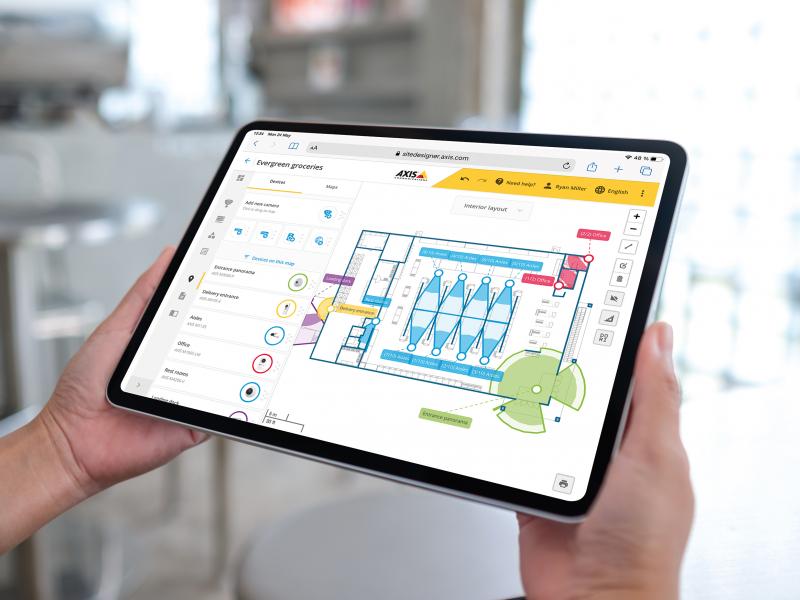 No guesswork
The tool will help you find the ideal Axis cameras and other devices for each situation, showing their performance and helping you decide their placement. Next, the tool removes guesswork by showing the mounts and accessories that match each device and its placement. It also helps determine required system storage and bandwidth and the right recording solution. And you can create or update professional quotations in minutes, right from within the application. You can automatically generate a full bill of materials and it lets you share site notes and advice with installers. Simply put, AXIS Site Designer helps you work faster, save time and win more bids.
Seamless integration with AXIS Camera Station
Support and resources
Need Axis product information, software, or help from one of our experts?
Supporting documents
Get datasheets, manuals, specifications and other resources for this product.
Go to product support
Technical support
Contact our support staff for efficient, one-on-one assistance with your Axis products.
Get in touch