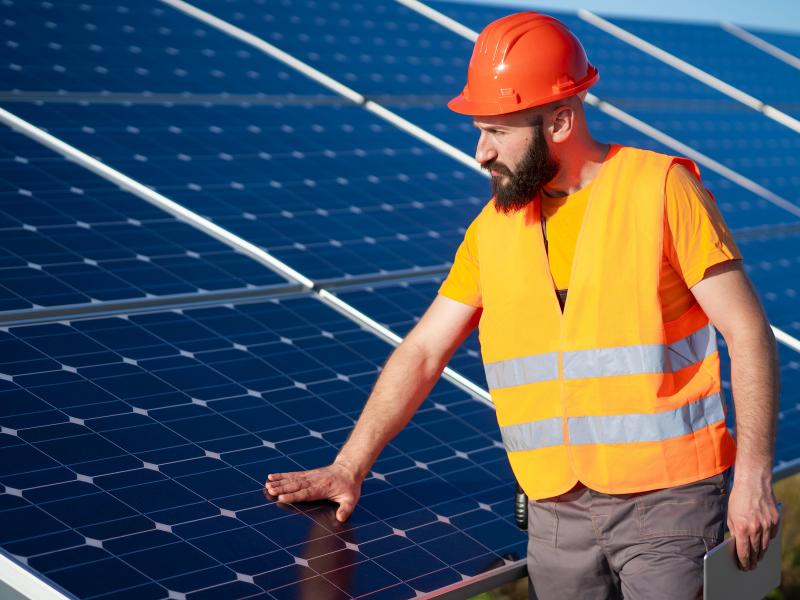 Secure the value of your solar farm with a single system
In an industry where remote and unmanned locations are commonplace, a reliable surveillance system is your most powerful tool in maintaining situational awareness. Remote monitoring minimizes costly downtime and on-site checks without compromising security or safety. An intelligent Axis solution provides both an overview and targeted monitoring of key assets and operational indicators. By reducing risk to your productivity and profitability, you safeguard your investment. And because of our open platform, Axis devices are easy to integrate with other systems, so you always have the freedom to build the perfect solution for your needs.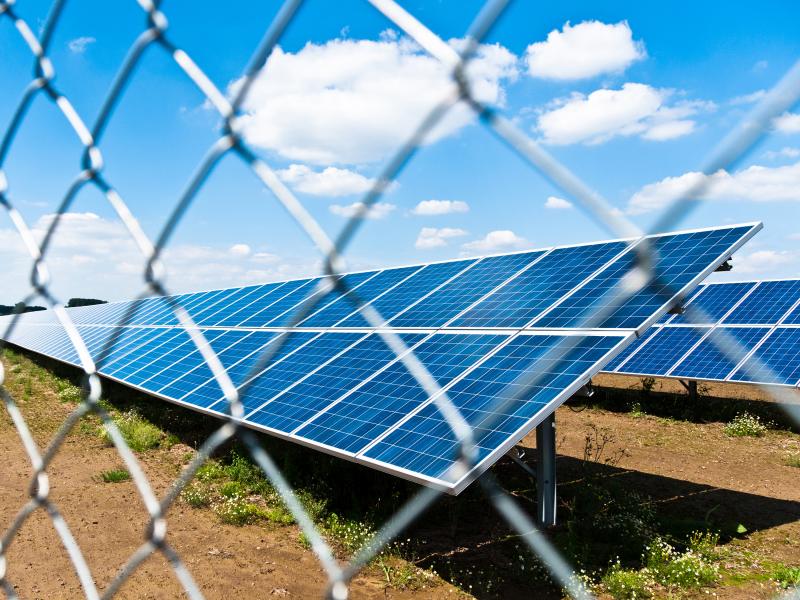 Protect your operations - from the outside in
As a valuable and growing part of our energy infrastructure, solar farms need to be able to reliably meet production goals. Starting with perimeter defense, Axis network cameras and devices allow for a rapid and intelligent response to potential intruders, so you can detect them - and deter them - earlier. That same system can protect your operations in other ways - for example, by enabling predictive maintenance, coordinating timely repairs, improving trainings, and ensuring consistent safety compliance.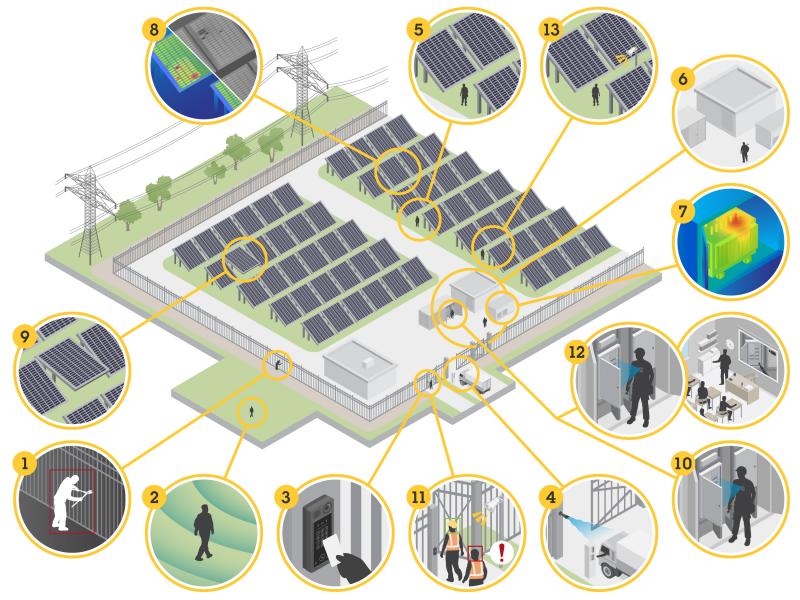 Example of use cases
1. Detect and classify potential intruders with thermal cameras
2. Deter intruders earlier with radar perimeter protection
3. Control site access and maintain a visual record of visitors
4. Automate vehicle access control with license plate recognition
5. Maintain comprehensive situational awareness with visual cameras
6. Monitor the security of specific high-value or high-risk areas
7. Identify overheating equipment to maintain site health
8. Identify maintenance needs early using thermal technology
9. Review panel positioning to ensure optimal performance
10. Ensure workplace safety compliance using PPE detection
11. Verify safe procedures and improve training with body-worn cameras
12. Enhance staff safety with video monitoring and two-way audio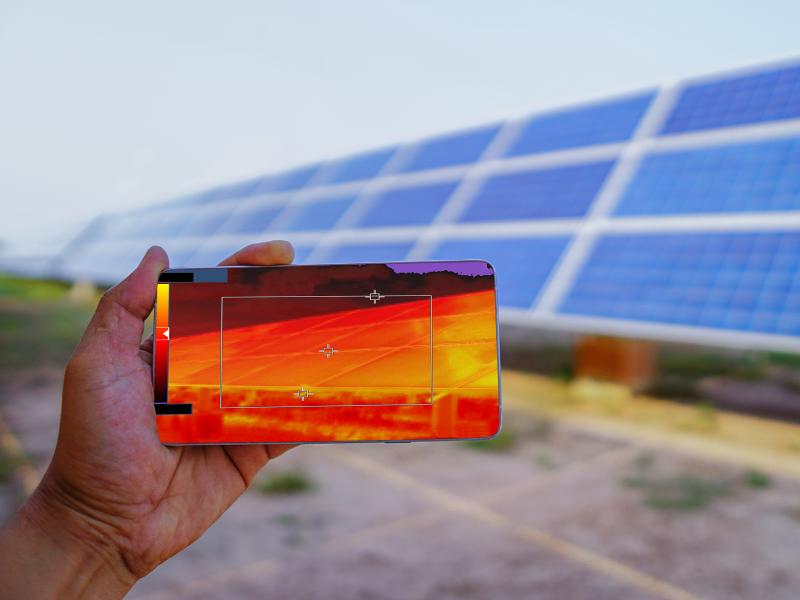 See more with thermal cameras
Day or night, Axis thermal and thermometric cameras enhance the situational awareness provided by visual cameras. When it comes to security, thermal cameras reliably detect intruders, even when conditions are less than ideal for visual cameras. On the operations side, they pinpoint equipment in need of maintenance or replacement. Meanwhile, thermometric cameras identify critically overheating equipment to prevent fires and protect your site, your staff, and the surrounding environment. Both kinds of cameras are able to operate in complete darkness and emit no light pollution, well-suited to the neighboring - often nocturnal - wildlife.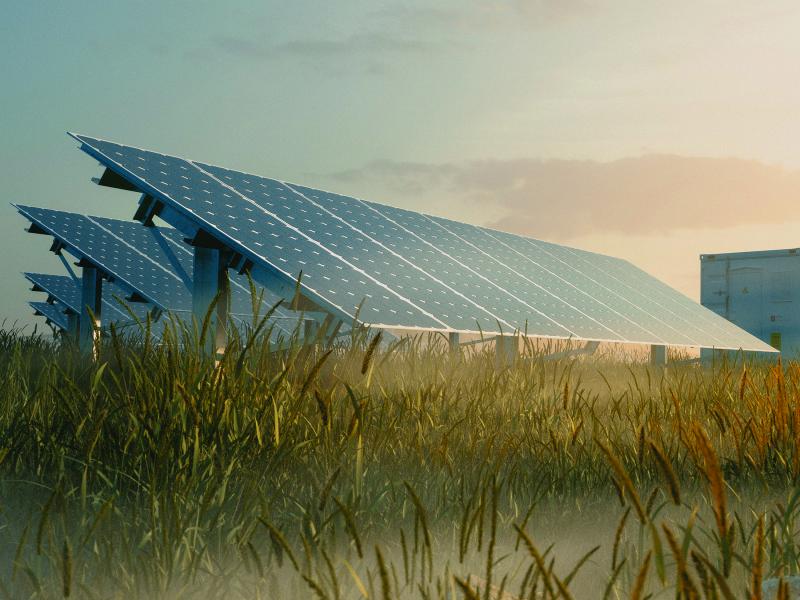 Solutions that support sustainability
At Axis, we work to ensure our products, practices, and processes contribute to the UN sustainability goals. Our strategic focus areas include beating climate change and protecting our natural resources and ecosystems. A key part of our approach to sustainable design is always asking how our devices and technology will make your operations more sustainable. 
By enhancing effectiveness and creating efficiencies throughout your operations, Axis solutions work to match your solar farm's environmental footprint to its mission.