SKDP03-T Cable ExCam
Non-armored data and power cable
Network and power cable
Ex-certified cable gland included
For hazardous areas
For hazardous areas
This data and power cable is specially designed for hazardous areas in accordance with EN 60079-14 for use in arctic temperatures (-60 °C/140 °F). The cable is ideal for wiring explosion-protected network cameras in AXIS ExCam Series. The cable meets the transmission characteristics for Category 6 of IEC 61156-5 Edition 2. It provides resistance against mechanical stress, oils as well as greases. Moreover, it is halogen free.
SKDP03-T is a high-speed cable for Industrial Ethernet for fixed installations in dry, wet, or damp rooms.
The non-armored cable comes with included:
1x Ex d M20x1.5 cable gland - to connect to Ex Connection Rail PoE PS24 (if required)
1x Cat 6 RJ45 connector

SKDP03-T is available in different lengths:
10 m (33 ft)
25 m (82 ft) 
95 m (312 ft)
Specifications
Outer diameter: ø 12.3 ± 0.3 mm (ø 0.5 ± 0.01 in)
Maximum bending radius: 10 x diameter during installation
Material outer jacket: PUR FHF – flame retardant according to IEC 60332-1-2
Construction: Cat 6, 4 x 2 x AWG22/1 shielded GN J/W 3G1.5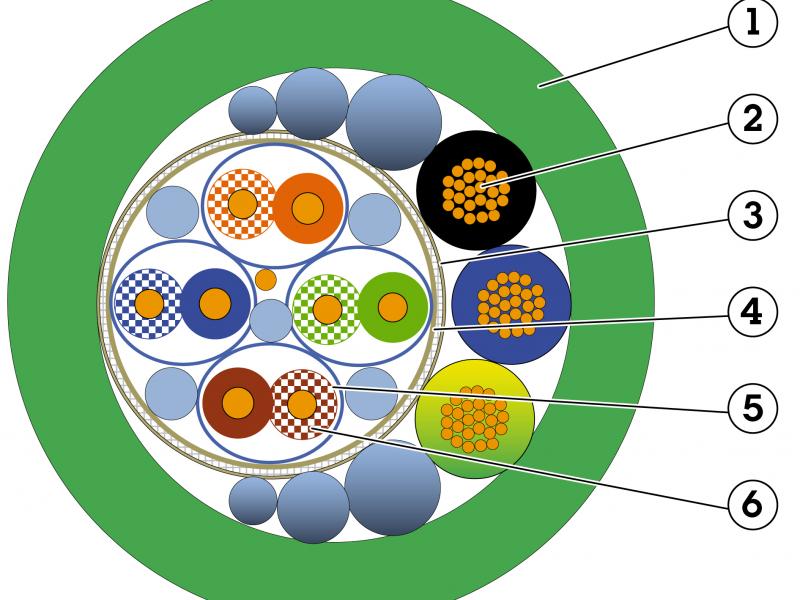 Image
1. Jacket
2. Power elements
3. Isolation foil
4. Copper wire shielding
5. Shielding foil
6. Data elements
Compatible products
Make the most out of your solution. Use the filter to find compatible products.
Start by selecting your product variant (compatibility may rely on it).
Discontinued products
The following compatible products have been discontinued.
Explosion-protected cameras
How to buy
Axis solutions and individual products are sold and expertly installed by our trusted partners.
Want to buy Axis products?
Find resellers, system integrators and installers of Axis products and systems.
Find a reseller
Want to sell Axis products?
Interested in becoming a reseller? Find contact information for distributors of Axis products and systems.
Find a distributor
Become a partner
Are you a reseller, distributor, system integrator or installer? We have partners in nearly every country in the world. Find out how to become one!
Become a partner
Part number for ordering
| Name | Axis region | Part number |
| --- | --- | --- |
| SKDP03-T Cable ExCam 95 m | US, UK, IN, EU, AU | 01542-001 |
| SKDP03-T Cable ExCam 25 m | UK, IN, EU, AU | 01541-001 |
| SKDP03-T Cable ExCam 10 m | UK, IN, EU, AU | 01540-001 |
Support and resources
Need Axis product information, software, or help from one of our experts?
Documentation and software
Get product-specific information, firmware and software.
Go to documentation and software
Technical support
Contact our support staff for efficient, one-on-one assistance with your Axis products.
Get in touch
Axis 3-year warranty
Get information and details on your 3-year product warranty.
Go to warranty