AXIS F34 Surveillance System
A complete, cost-efficient solution you can trust
AXIS F34 Main Unit streams HDTV 720p videos from four AXIS F1004 Sensor Units simultaneously 
Axis' Zipstream technology 
Storage on two AXIS Surveillance microSDXC™ Card 64 GB 
AXIS Companion for video management and secure remote monitoring
Get all in one
AXIS F34 Surveillance System is a discreet, four-camera surveillance solution ideal for small stores and offices. The necessary hardware for setting up the system is included in the sales unit, while the video management software is free for download on a PC and mobile devices. All the components, from cameras to storage and video management, are fully integrated for optimal installation and use.
Benefit from the divided camera concept
We have separated the IP camera's main unit from the lens and image sensor for several reasons. The thumb-sized lens and mounting accessories allow for discreet installation on surfaces or recessed ceilings. Two different types of mounting accessories are included so you can choose the preferred mounting on site. You can also place the small, lightweight main unit at a convenient location up to 15 m (49 ft.) away from each sensor unit. All four sensor units are powered through the main unit so you do not need separate power sources for them.
How it works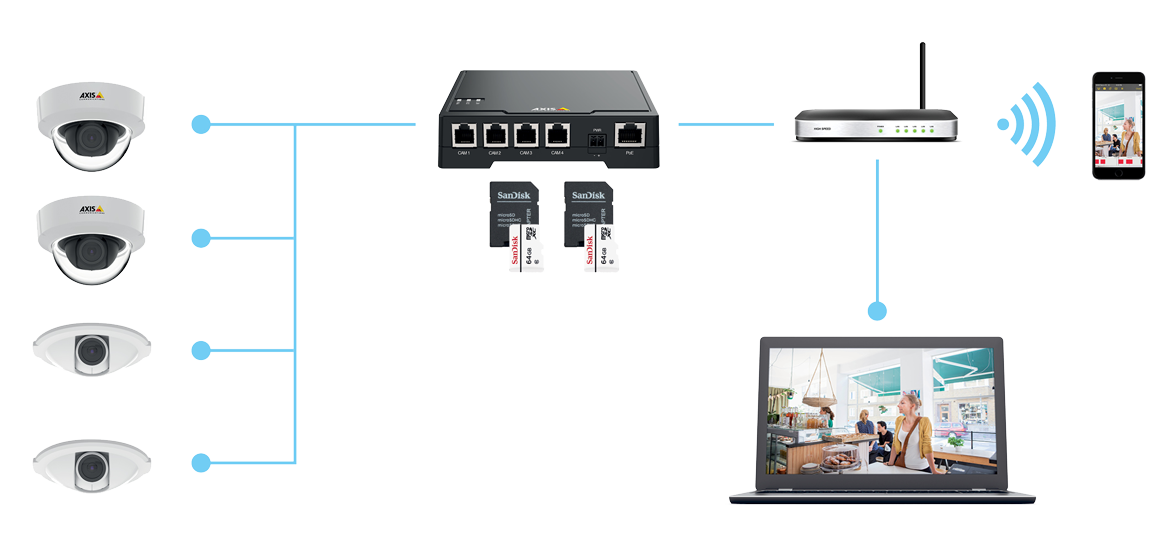 1
2
3
4
The four eyes of the system
AXIS F1004, which comprises a fixed lens and image sensor, provides a 102º horizontal field of view and supports 720p resolution. Choose between a surface or recessed mounting accessory. Four units of each are included.
Main unit in the middle
The sensor units connect with included cabling to the AXIS F34 Main Unit. It can record and stream videos from the four sensor units simultaneously.
Sufficient storage
With two built-in memory card slots, AXIS F34 enables local storage of video. AXIS Surveillance microSDXC Card 64 GB is specifically engineered to handle continuous overwriting for lasting performance.
Video management made simple
AXIS Companion is optimized to fully leverage the powerful capabilities of AXIS F34 Surveillance System. The solution includes support for Axis' Zipstream technology, AXIS VMD 3 for maximum retention time, and Axis Secure Remote Access, which provides an easy-to-install encrypted communication for mobile viewing.
Innovations that bring savings and efficiency
AXIS Companion is optimized for use with AXIS F34 Surveillance System. The solution includes support for Axis' Zipstream technology and AXIS Video Motion Detection for maximum retention time. By utilizing these two technologies, the two SD cards - with a total of 128 GB storage - support one to two weeks of video storage.
AXIS Companion also utilizes Axis Secure Remote Access for encrypted communication when viewing the system remotely. Connecting to remote cameras can be a challenge, especially when the cameras are located behind routers or firewalls. Axis Secure Remote Access significantly simplifies the installation of remote access to surveillance systems. It is automatically configured during installation, and eliminates the need for manual port-forwarding or router configuration.
Equipment included for a complete system
1x AXIS F34 Main Unit and mains adapter PS-P T-C
4x AXIS F1004 Sensor Units and AXIS F7315 cables
4x AXIS F8214 Dome Accessory
4x AXIS F8224 Recessed Accessory
2x AXIS Surveillance microSDXC Card 64 GB
The PC-client for AXIS Companion is free for download. The mobile viewing apps for AXIS Companion for both iOS and Android can also be downloaded for free.
All software isn't compatible with all products, please refer to the data sheets for compatibility information.
The market's easiest video surveillance solution optimized for small systems
The ideal solution to meet the needs for active surveillance of mid-sized installations
A full range of cloud-based surveillance and security services from Axis partners
Customized and specialized solutions from Axis partners, for any system complexity and size
Mounts
Illuminators
Power over Ethernet
Network Switches
PoE Extenders
Power Supplies
Media Converters
PoE+ over Coax
Storage
Cables and connectors
Installation Tools
Surge protectors