AXIS Case Insight
Make your case
Centralized storage of all evidence
Hosted and managed by Axis
CAD and RMS integration
Audit trail functionality
Assisted redaction of faces
Are you looking for an evidence management system to ensure your evidence holds up in court? AXIS Case Insight gathers all the evidence you need in one centralized location.
Build even stronger cases
AXIS Case Insight allows you to securely gather all your evidence in one place for easy management and access. It's possible to upload all types of digital evidence and thanks to audit trail functionality, the software will record every change made to the files while it keeps the original file untouched. This helps secure the chain of custody and ensures reliable evidence that's admissible in a court of law. AXIS Case Insight provides tools to optimally process the evidence for analysis and presentation. For instance, you can add digital watermarks and overlays with extra information to support your evidence such as timestamps or case numbers. Designed with cybersecurity in mind, it offers automatic, end-to-end encryption ensuring file integrity. Furthermore, you get total access control with easy management of user permissions.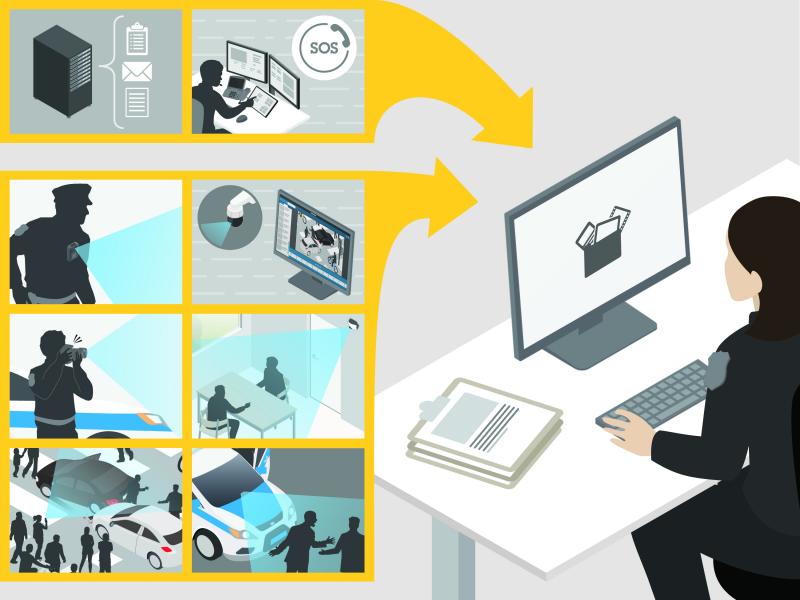 Manage case efficiently
Recordings from the Axis body worn camera are automatically imported, with incident time and location. When integrated with a Record Management System (RMS) or Computer-Aided Dispatch system (CAD), cases are automatically created and populated with relevant recordings as well as digital evidence from other sources. You can easily collaborate with internal investigators or securely share information with prosecutors. Tagging functionality and advanced search capabilities allow for easy management and mean you can quickly find exactly what you need. Plus, with the assisted redaction of faces, it's easy to protect sensitive information and ensure the public's privacy remains intact.
Focus on solving cases
With AXIS Case Insight you get a one-stop-shop for all your digital evidence needs. There's no need to spend time on system design, no specially trained installers required, and no infrastructure headaches – we take care of everything so you don't have to. This end-to-end solution includes hardware, software, and hosting from Axis. And, you can be sure you always have the latest Axis system installed. There's no need to invest in secure storage- and there is no risk of hard disk failure, AXIS Case Insight won't  ever lose recordings or evidence. Furthermore, users can benefit from one, complete solution from one, trusted supplier. With Axis as the single point of contact, you can feel confident that any problem that may arise will be handled quickly and efficiently.
Interested in AXIS Case Insight
If you are interested in AXIS Case Insight, fill out the form at this link. After you have successfully supplied your information you will be contacted by Axis.
Compatible products
Customize, enhance and add functionality to your solution.
How to buy
Axis solutions and individual products are sold and expertly installed by our trusted partners.
Want to buy Axis products?
Find resellers, system integrators and installers of Axis products and systems.
Find a reseller
Want to sell Axis products?
Interested in becoming a reseller? Find contact information for distributors of Axis products and systems.
Find a distributor
Become a partner
Are you a reseller, distributor, system integrator or installer? We have partners in nearly every country in the world. Find out how to become one!
Become a partner
note
Thank you for your interest in AXIS Case Insight. Would you like to test AXIS Case Insight 30 days for free to experience the software and find out more how it works? Start your free trial here

If you are interested in buying AXIS Case Insight please contact your local Axis partner that can be found here. You can also contact us for further information.
REGISTER FOR AXIS CASE INSIGHT
Part number for ordering
| Name | Axis region | Part number |
| --- | --- | --- |
| AXIS Case Insight 1 Year US Government | US | 02287-001 |
| AXIS Case Insight 1 Year Storage 1 TB US Government | US | 02294-001 |
| AXIS Case Insight 1 Year Storage 1 TB | US | 02291-001 |
| AXIS Case Insight 1 Year Storage 1 TB | CA | 02297-001 |
| AXIS Case Insight 1 Year Storage 1 TB | AU | 02301-001 |
| AXIS Case Insight 1 Year Storage 1 TB | EU, UK | 02298-001 |
| AXIS Case Insight 1 Year | US | 02084-001 |
| AXIS Case Insight 1 Year | EU, UK | 02289-001 |
| AXIS Case Insight 1 Year | AU | 02299-001 |
| AXIS Case Insight 1 Year | CA | 02295-001 |
Support and resources
Need Axis product information, software, or help from one of our experts?
Supporting documents
Get datasheets, manuals, specifications and other resources for this product.
Go to product support
Technical support
Contact our support staff for efficient, one-on-one assistance with your Axis products.
Get in touch