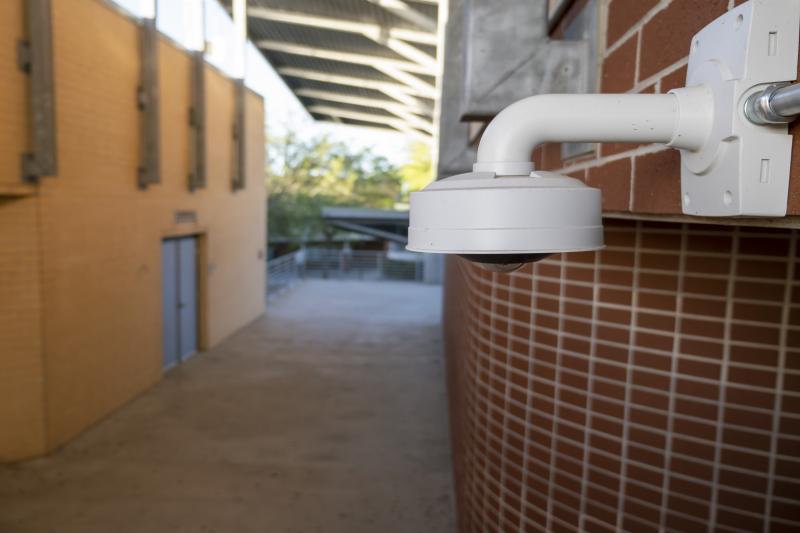 Upgrade Helps Schools Get Responsive & Preventive
Organization:
Hernando County School District (2)
Location:
Brooksville, Florida, United States
Customer need:
Public safety, Property and asset protection, Access management
Brooksville, Florida, United States,
Through its upgrade to Axis network cameras, video management system, intercoms, speakers, and software integrations, Hernando County School District turned its security posture from reactive to preventive.
Before Jill Renihan became director of safe schools for the Hernando County School District in Florida, she was a school administrator, who admittedly suffered the pains of using a video surveillance system that was all wrong. "We were operating on — in technological terms — an ancient system. Coax cabling running all analog cameras. We had an abundance of cameras in some locations that didn't provide us the best coverage and a complete almost absence of cameras in some other areas," Renihan describes.
School administrators had no way of knowing whether or not the cameras were operational, and they weren't useful for identification of people. In addition, their existing system wasn't able to share video across sites. 
I was a school administrator suffering from the lack of cameras, or cameras that weren't working, or inadequate coverage, or being unable to really gather information and make identification of people.
Director of Safe Schools, Hernando County School District
Then came the legislation that followed the Marjory Stoneman Douglas High School shooting. It was then that Renihan was appointed as director of safe schools, a provision of the legislation.  It was also a turning point for the Hernando County School District, driving them to seek a major system upgrade for all 23 of their schools. Renihan knew the schools needed a better solution, but she wasn't sure how that solution would look until she and her team began exploring technologies and providers. 
Renihan visited the Axis Experience Center in Fort Lauderdale, Florida, where she learned about Axis Communications' open platform and their ability to integrate with many other solutions. She discovered that Axis cameras can be monitored for their operative health. GC&E Systems Group LLC, an Axis partner and systems integrator of communications and electronic security solutions, recommended and subsequently built a new network in support of the upgraded system that was to come.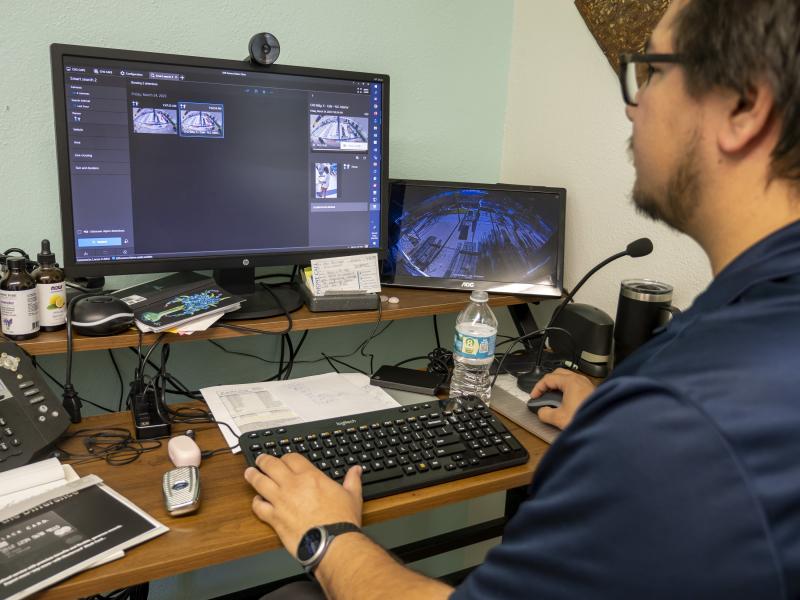 Surveillance System Management & Control
At the heart of the new IP network-based surveillance and security system is AXIS Camera Station, a powerful video management platform that can operate both video surveillance and access control systems. It gives the school district, for the first time, the ability to limit access to their video recordings, which are confidential both by policy and by statute. Administrators now can monitor who is using the VMS and when, as well as limit their ability to record or share clips and footage. 
In addition, AXIS Camera Station allows the district to easily customize the set up and view the status of the system's cameras through its health monitoring function, a factor that Renihan finds very important. "Of the systems that we tried out, we found AXIS Camera Station to be the most user-friendly and accessible for us," she says.
Software licensing fees sometimes can be difficult for schools to handle, because of educational funding cycles and the way in which grant money is dispersed. "Ongoing licensing fees can be really difficult to handle, and Axis' one-time license fee completely took all that off the table for us," explains Rob Hile, sales manager at GC&E Systems. Renihan is also pleased that the district owns all the video that the system produces unlike the business models of some other providers.
The system also helps with everyday issues, such as student infractions and employee discipline, because the schools can resolve these issues in a matter of seconds or minutes — compared with days or weeks the previous system required for searching recorded video in real time.
All of the district's video is stored locally on AXIS Camera Station recording servers at each school and a VPN tunnel to the sheriff's office allows them to share "access to 100 percent of our cameras 100 percent of the time." GC&E was initially challenged by some of the district's larger campuses needing to have five or six of the Axis servers in a small IT room. Although they initially used an OEM server provider, "Axis was very quick to respond to this by bringing out a new server option, which has more horsepower and a smaller form factor. Now we can go back to the Axis version instead of having to go to the OEM market to satisfy the mission," Hile says.
Cameras, Sensors & Other Security Components
Renihan and Hile both agreed that laying the network infrastructure first was the best approach for the upgrade. "We put 20-foot service loops on the end of the network connections to make sure that if cameras had to be repositioned 10 feet this way or that way we could accommodate it," reports Hile. "It may not be the cheapest ways to do it, but it does reduce the total cost of ownership."
Nearly 2,000 cameras comprise the network of Hernando County School District. Many different configurations and styles of Axis network cameras work perfectly for the schools' layouts.  Axis dual-sensor, multi-directional cameras allow the schools to surveil in two different directions with one unit. They're perfect for an intersection in a hallway or in a stairwell, where the schools otherwise would have to use two or more cameras to cover the entire area.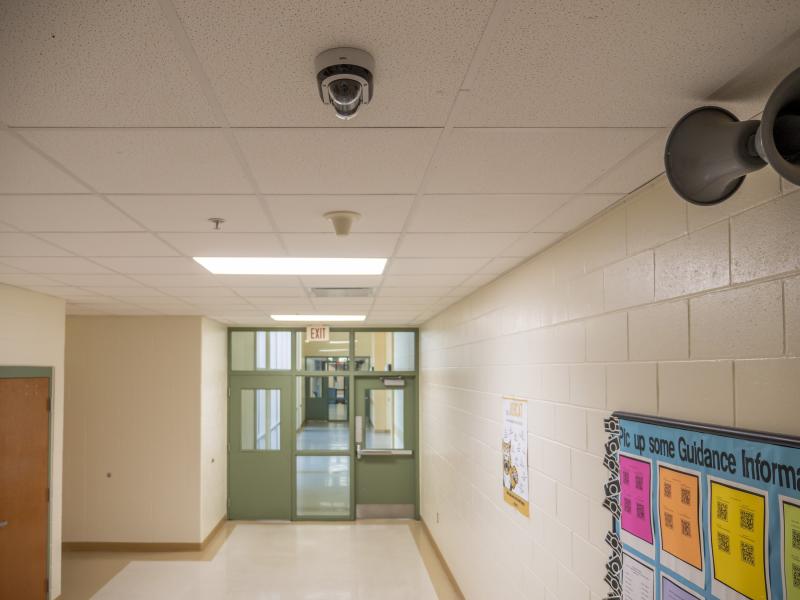 Another model that fits the schools' needs well is the AXIS P38 Network Camera. It has four sensors and provides seamless, 180-degree panoramic coverage and 90 degrees of vertical coverage, which encompasses the schools' expansive spaces and outdoor areas. "I'm very satisfied, and the principals that have these systems deployed at their schools are in love with the new cameras. We're getting what we want out of the system, 100 percent," she says.
One reason these two camera models work well for Hernando County schools is because the technology is optimal for their weapons detection analytic, which is integrated with the Axis surveillance system. Renihan explains that some panoramic cameras on the market produce images that are curved on the edges, "a distortion that is less effective with weapons detection artificial intelligence," she explains. But Axis cameras don't have that distortion.
Integrations With Vape Sensors & Gun Detection 
A smart sensor and a gun detection system have been integrated with the Axis solution at Hernando County School District. 
The district uses the smart sensors in the restrooms of the middle schools and high schools for their vaping detection capability. Since cameras cannot be installed inside restrooms, if vaping is detected then the sensor triggers a camera mounted right outside the restroom to start recording. That way the school can capture images of the very next one or two people who exit the restroom. 
Renihan and her team opted for a visual gun detection system because of its ability to use the new surveillance system as a prevention tool as opposed to simply a recording tool. The manufacturer uses artificial intelligence to actively monitor camera feeds in order to identify what may be a handgun or a long gun. It then alerts the gun detection's operations center which is manned by military-trained humans who verify if what was detected is an actual weapon. The operations center alerts the school via SMS and email with information and an image, as well as a phone call from a live person. 
We're ahead of the game in a lot of areas, and our sheriff's department locally, as well as those in some of the nearby counties, are looking at modeling after the integrations and the installations that we've done.
Director of Safe Schools, Hernando County School District
"With the gun detection system and Axis making this all possible, we get alerts within our panic app too," Renihan says. "The integration was very painless because of the professionalism of everybody involved in it. It's between 3 and 7 seconds that we're getting that SMS alert, less than 15 seconds when we're getting that alert through our crisis app."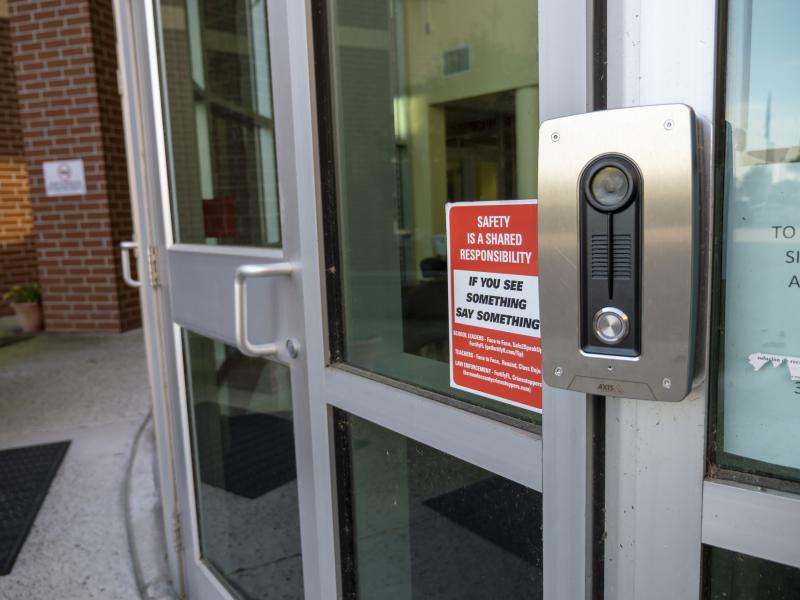 Rounding out the security system at Hernando County School District are Axis intercoms at each school and several satellite locations. The quality of the video and audio is "pretty powerful in comparison to anything else we saw that was out there, not to mention we could integrate it into our access control so that from the software, people could not only see, hear and vet visitors, they could actually open a door and let them in remotely."
As part of the upgrade, Hernando County School District established a critical incident control room in every school. They're in the process of adding a 2N microphone console to each classroom and installing Axis horn speakers in various outdoor locations, such as athletic fields, for emergency announcements. 
The Bottom Line: Accurate, Fast, Preventive
The new upgraded system, which helps the district keep cameras operational through health monitoring, provides high-quality imaging that allows accurate identification of individuals and clear details about incidents. It has been helpful to administrators in following up a variety of student claims and very quickly revealing the truth of the matter without secondarily victimizing somebody, Renihan says.
Renihan knows AXIS Camera Station with Smart Search 2 will be a critical advantage to the school district going forward and likely already provided a return on investment. "If you just take the savings that the system search capabilities enable the school system to do by quickly and efficiently identifying situations and the people involved, and mitigating those without having to shut the school down, interview and search every student, bring in additional law enforcement, and spend hours and hours of time searching video, I would venture to say that this system probably paid for itself in a very quick time," asserts Hile.
The new system already has had an impact from both being able to resolve incidents with students and staff, as well as from the cameras being integrated with the vape detectors. The schools have been able to identify who has been vaping and process those infractions very quickly. They also are working on programming that addresses resistance to engaging in vaping, Renihan says.
"We're ahead of the game in a lot of areas, and our sheriff's department locally, as well as those in some of the nearby counties, are looking at modeling after the integrations and the installations that we've done because we've had success with those solutions," Renihan says. 
Our partner organizations