Flexible, rugged, discreet design
1-channel and 4-channel main units
Choice of indoor, outdoor, standard, varifocal, pinhole, fisheye and dome sensor units
Wide Dynamic Range and Axis' Zipstream technology
Two-way audio, input/output ports
Local storage, PoE or 8-28 V DC
Discreet cameras for wide application
AXIS F Series offers flexible, high-performance HDTV cameras for extremely discreet indoor, outdoor and in-vehicle surveillance applications. They are ideal for ATMs (automated teller machines), banks, stores, hotels, as well as rugged environments such as emergency vehicles, buses, trams and trucks.
Divided concept
AXIS F Series is based on a divided network camera concept, where the camera is split into a sensor unit—made up of a lens and image sensor with a cable—and a main unit, which is the body of a camera. The divided concept enables flexibility in the choice of hardware, as well as in the installation. The small sensor unit can be installed discreetly in tight places, while the long cable from the sensor unit to the main unit provides the flexibility to place the main unit where there is space. The main or sensor unit can be easily relocated or changed after the initial installation, giving users additional flexibility. 
Wide selection
AXIS F Series comprises one-channel AXIS F41 Main Unit, four-channel AXIS F34 and AXIS F44 Main Units, and AXIS F Sensor Units with different lens types, form factors and price points. The series also includes AXIS F34 Surveillance System, a complete hardware and software solution aimed at small stores and offices.
With the exception of AXIS F34 Surveillance System, AXIS F main units and sensor units are sold separately to give customers the ability to put together the hardware features that best suit the application.
Build your own camera system
Click on the numbers at right to read more about the different components.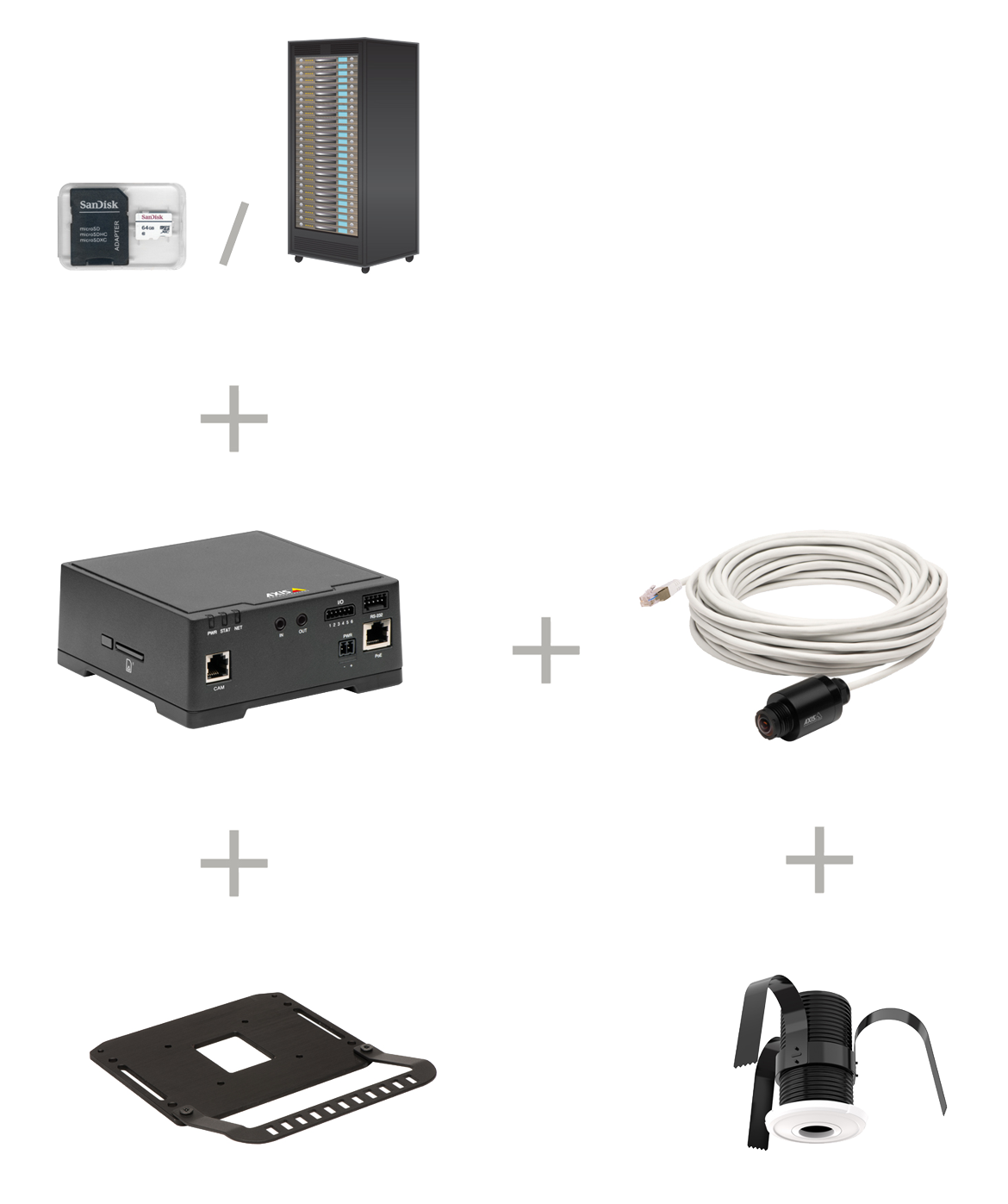 1
2
3
4
Main unit
The main unit houses the processor, network, power and other connections. It determines, among other things, the video streaming performance, the image settings available (such as wide dynamic range), and analytics.
One-channel and four-channel main units are available. When there are up to four closely situated surveillance areas to be covered, the four-channel main units are cost-effective solutions as they can stream videos from four sensor units simultaneously.
Sensor unit
The sensor unit sets the maximum image resolution and field of view, and determines the type of wide dynamic range (WDR) that is supported.
There are sensor units with a standard, varifocal, pinhole or fisheye lens. Some have a dome form factor; others can be converted, if required, into domes or bullet style units with the help of optional accessories. Different cable lengths for attachment to a main unit are also available.
Some sensor units can be used indoors or outdoors, while others are for indoor use only.
Storage
With built-in memory card slots, AXIS F Main Units enable local storage of video (and audio, if supported) on SD/SDHC/SDXC cards for primary or back-up recording purposes. AXIS F Main Units also support recording to dedicated network-attached storage.
Sold separately, AXIS Surveillance microSDXC card 64 GB with an SD card adaptor is ideal for use since it is specifically engineered to handle continuous overwriting for lasting performance.
Accessories
Products in AXIS F Series can be installed as they come as most include a mounting accessory. Optional accessories are available, including a variety of mounts to support easy installation…
on hard surfaces
in walls or ceilings (recessed)
on shelves
behind sheets of plastic, metal or glass
A complete solution in one box
AXIS F34 Surveillance System is a highly discreet four-camera surveillance system that is ideal for small stores and offices. The solution comes with the necessary hardware and software for a complete remote video monitoring and management system.
|   | | | |
| --- | --- | --- | --- |
| Connection to no. of sensor units | 4 | 1 | 4 |
| Max video resolution | 1920 x 1080 | 1920 x 1200 | 1920 x 1080 |
| WDR – Forensic Capture |   |   |   |
| Quad view |   |   |   |
| Zipstream |   |   |   |
| Rugged |   |   |   |
| Two-way audio |   |   |   |
| Alarm in-/outputs |   |   |   |
| Power over Ethernet |   |   |   |
| DC power |   |   |   |
| AXIS Camera Application Platform |   |   |   |
| Edge storage |   |   |   |
|   | | | | | |
| --- | --- | --- | --- | --- | --- |
| Outdoor |   |   |   |   |   |
| Horizontal angle of view | 102° in 720p | 102° in 720p | 57° in 720p | 113° in 1080p | 52° to 97° in 1080p |
| Lens | Standard | Standard | Pinhole | Standard | Varifocal |
| Min. illumination Color | 0.4 lux | 0.4 lux | 0.5 lux | 0.3 lux | 0.3 lux |
|   | | | | |
| --- | --- | --- | --- | --- |
| Outdoor |   |   |   |   |
| Horizontal angle of view | 92° in 1080p | 194° in 1080p | 113° in 1080p | 110° in 1080p |
| Lens | Pinhole | Fisheye | Standard | Standard |
| Min. illumination Color | 0.3 lux | 0.3 lux | 0.3 lux | 0.3 lux |