AXIS D4100-E Network Strobe Siren
Copy the product name
Copied
Deterrence, safety, operational efficiency
Light and sound in one IP-based device
Profiles with different priority levels
VAPIX®, MQTT and SIP integration
IP66, IK10, NEMA-4X rated casing
5-year warranty
Deter intruders, improve operational efficiency, and do even more with the power of light and sound. With strobe lighting and siren alarms, this fully networked device warns and notifies to help solve multiple needs on your premises.
Deterrence, safety, and operational efficiency
You want to prevent intrusion in your perimeter. Or signal access denied or granted at your parking area with a boom gate. People safety is your top priority. So in an emergency, you want to be able to signal if an area is safe to be in or not. With AXIS D4100-E you can do all this, and much more. Through VAPIX, MQTT or SIP the device offers numerous integration possibilities. For example, it can be connected to a camera with perimeter protection or license plate recognition (LPR) analytics. Or to an Axis network speaker for an increased level of deterrence. Thanks to MQTT, it can also be tied to third-party internet of things (IoT) systems.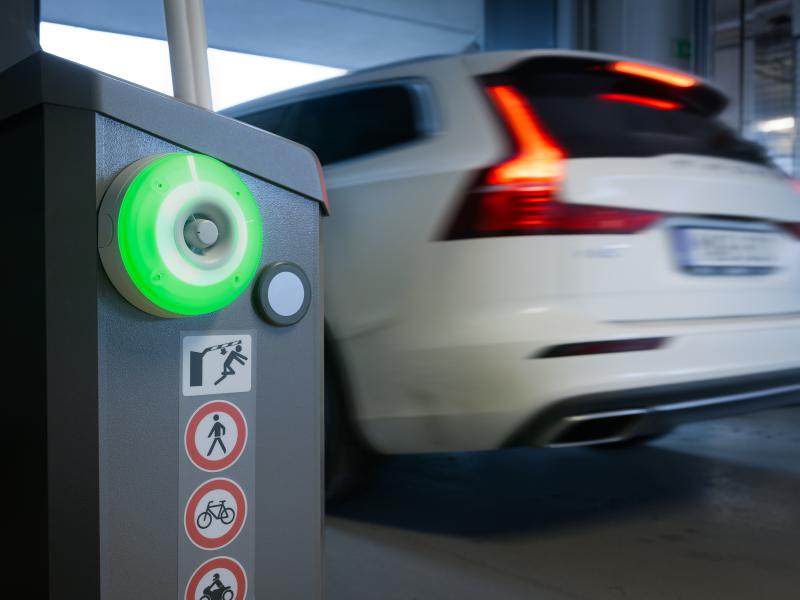 Multi-functional and versatile
You can customize AXIS D4100-E for your environment, choosing from various white and RGBA light patterns and pre-configured sounds. For instance, in a hospital ward, you can trigger only the strobe light and not the alarm so as not to disturb the patients. You can also set up profiles with different priority levels. And, if triggered, a profile with a higher priority will override a current profile. Furthermore, this robust, IP66-, NEMA-4X- and IK10-rated device offers an optional sunshield for daytime outdoor use.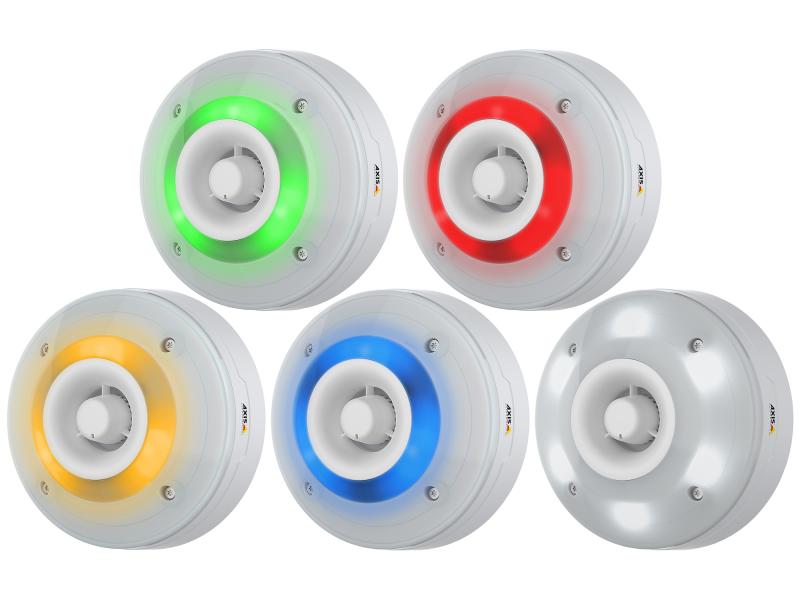 Cost-efficient ownership
AXIS D4100-E is cost-efficient to install, configure, and maintain. A strobe light and a siren in one device means you spend less time on installation. You need fewer cables and other mounting accessories, and PoE cuts your cabling costs even more. Thanks to a simple, web-based interface, you can quickly configure one device and copy and deploy the setup to others on the system. Scheduled health checks at your preferred frequency mean lower costs for on-site inspection. Plus, you'll immediately be notified if something is wrong. And with our 5-year warranty, you can depend on Axis for first-class quality, reliability, and support.
Accessories
To find the right accessory, simply use the filters below.
How to buy
Axis solutions and individual products are sold and expertly installed by our trusted partners.
Want to buy Axis products?
Find resellers, system integrators and installers of Axis products and systems.
Find a reseller
Want to sell Axis products?
Interested in becoming a reseller? Find contact information for distributors of Axis products and systems.
Find a distributor
Become a partner
Are you a reseller, distributor, system integrator or installer? We have partners in nearly every country in the world. Find out how to become one!
Become a partner
Part number for ordering
| Name | Axis region | Part number |
| --- | --- | --- |
| AXIS D4100-E Network Strobe Siren | AR, AU, BR, CN, EU, IN, JP, KR, UK, US | 01942-001 |
Support and resources
Need Axis product information, software, or help from one of our experts?
Documentation and software
Get product-specific information, firmware and software.
Go to documentation and software
Technical support
Contact our support staff for efficient, one-on-one assistance with your Axis products.
Get in touch
Axis 5-year warranty
Get information and details on your 5-year product warranty.
Go to warranty