AXIS P3738-PLE Panoramic Camera
New
4x4K multidirectional with deep learning
4*4K at 15 fps per channel
360° IR illumination with individually controlled LEDs
Flexible mounting options
Support for advanced analytics
Axis Edge Vault safeguards the device
Ideal for wide-area surveillance, this multidirectional camera delivers excellent overviews and detailed coverage. With highly efficient power consumption, it ensures sustainable surveillance with lower operating costs. 
Wide area surveillance with high-quality overview—24/7
AXIS P3738-PLE offers four channels with 4K per channel at 15 fps letting you capture both wide-angle and zoomed-in, detailed views. It includes day/night functionality and 360° IR illumination with individually controllable LEDs and a removable IR cut filter. So, you'll enjoy clear, reflection-free footage and excellent image quality even in low light or complete darkness. Plus, Forensic WDR ensures clarity when there's both dark and light areas in the scene. Furthermore, it's possible to run metadata and AXIS Object Analytics streams on multiple channels so you can detect and classify people and vehicles, for instance entering a user-defined area. This makes it possible to count selected objects in an area of interest and trigger an alarm if a threshold is exceeded.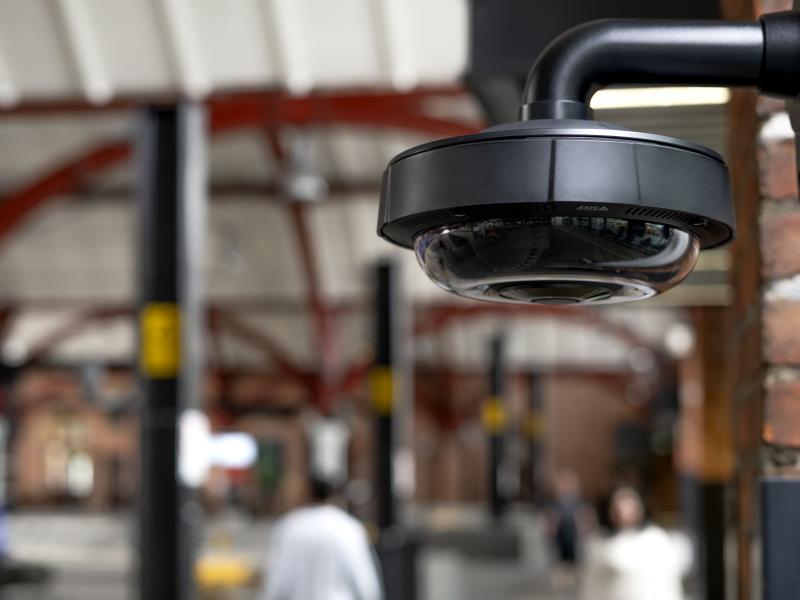 Brilliant Design
This compact camera offers various mounting options. For instance, it can be recessed mounted for discreet surveillance or mounted in ceilings for complete 360° coverage. When mounted on corners, it offers 270° coverage. Featuring a tamper-resistant casing and integrated IP66-/IP67-rated weather shield, it's protected against rain, snow, and sunlight—ideal for outdoor wall mounting. In addition, all four varifocal camera heads can be moved and rotated to provide the optimal field of view. Plus, each head can be controlled individually so you can monitor scenes in four directions. The camera's sensors can also be twisted, so two camera heads can be positioned closer together where one captures the wide view and the other zooms in on the same target.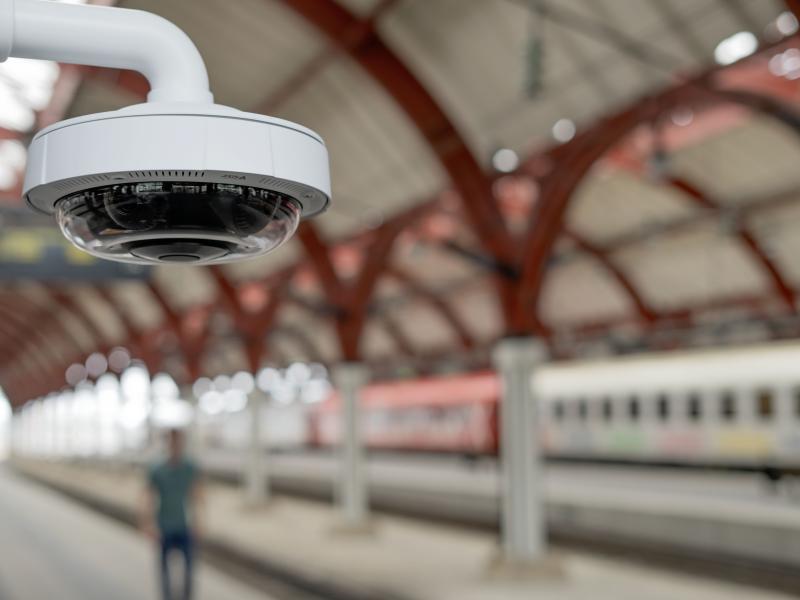 Cost-efficient and secure
With four camera heads in one camera, AXIS P3738-PLE ensures fast, accurate, and cost-effective installation. That's because there's only one camera to install, one cable to draw, one IP address, and one video management software (VMS) license. Plus, it offers market-leading energy consumption compared to multiple single-sensor cameras—even with IR enabled. This ensures sustainable surveillance with lower operating costs. Thanks to remote zoom and focus capabilities, it eliminates the need for hands-on fine-tuning. Furthermore, Axis Zipstream significantly lowers bandwidth and storage requirements. And Axis Edge Vault, a hardware-based cybersecurity platform, safeguards the device and protects sensitive information from unauthorized access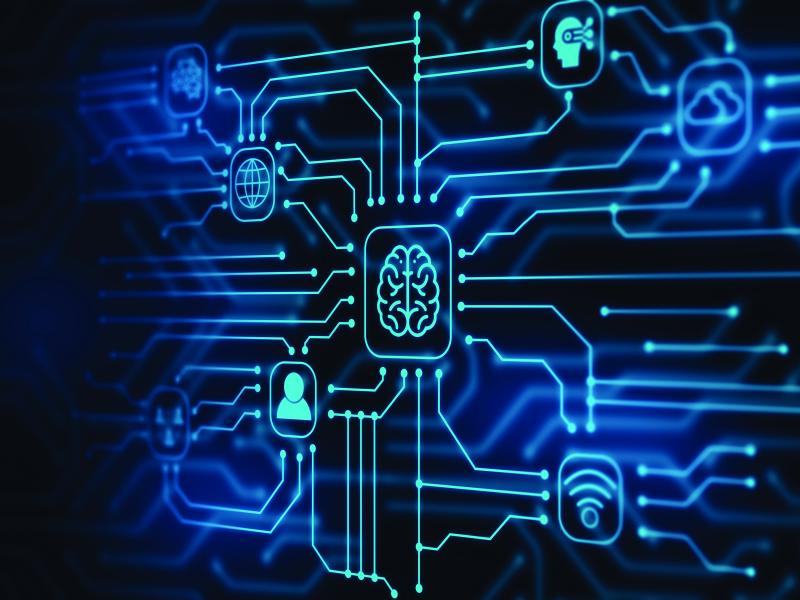 Deep learning analytics
Built on ARTPEC-8, this high-performance camera features a deep learning processing unit (DLPU) eliminating the need for expensive servers and allowing for a faster and more scalable system. Plus, it improves processing capabilities so you can collect and analyze even more data than before—on the edge. This helps ensure fast, easy, and efficient forensic search capabilities in live or recorded video. Thanks to AXIS Object Analytics, it can detect and classify people and vehicles. Furthermore, with support for ACAP version 4, you can add value to your system with tailor-made applications based on deep learning on the edge available from Axis and our partners.
Technical specifications
Camera

| | |
| --- | --- |
| Property description | Property value |
| Image sensor | CMOS |
| Image sensor size | 1/2.8 |
| Lightfinder | Lightfinder |
| Wide dynamic range | Forensic WDR |
| Min illumination/ light sensitivity (Color) | 0.19 lux |
| Min illumination/ light sensitivity (B/W) | 0 lux |
Video

| | |
| --- | --- |
| Property description | Property value |
| Max video resolution | 3840x2160 |
| Max frames per second | 12.5/15 |
| Day and Night functionality | Yes |
| Electronic image stabilization | – |
Lens

| | |
| --- | --- |
| Property description | Property value |
| Focal length | 3.18-8.12 mm |
| Horizontal field of view | 360 ° |
| Vertical field of view | 55.3 - 21.8 ° |
Compression

| | |
| --- | --- |
| Property description | Property value |
| Zipstream | Yes |
| H.264 | Baseline, High, Main |
| H.265 | Yes |
| Motion JPEG | Yes |
Audio

| | |
| --- | --- |
| Property description | Property value |
| Audio Support | Yes |
Security

| | |
| --- | --- |
| Property description | Property value |
| Signed firmware | Yes |
| Secure boot | Yes |
General

| | |
| --- | --- |
| Property description | Property value |
| Remote focus | Yes |
| Remote zoom | Yes |
| Built-in IR | Yes |
| OptimizedIR | Yes |
| Local storage (memory card slot) | Yes |
| Operating temperature | -30 to 50 °C |
| Outdoor Ready | Yes |
| Vandal rating | IK09 |
| IP rating | IP66, IP67 |
| Sustainability | BFR/CFR free, PVC free |
Analytics
Make your network camera solution more intelligent with powerful analytics and functionality.
Discontinued products
The following compatible products have been discontinued.
Media converters
Power
How to buy
Axis solutions and individual products are sold and expertly installed by our trusted partners.
Want to buy Axis products?
Find resellers, system integrators and installers of Axis products and systems.
Find a reseller
Want to sell Axis products?
Interested in becoming a reseller? Find contact information for distributors of Axis products and systems.
Find a distributor
Become a partner
Are you a reseller, distributor, system integrator or installer? We have partners in nearly every country in the world. Find out how to become one!
Become a partner
Part number for ordering
| Name | Axis region | Part number |
| --- | --- | --- |
| AXIS P3738-PLE | US, UK, KR, JP, IN, EU, CN, BR, AU, AR | 02635-001 |
Support and resources
Need Axis product information, software, or help from one of our experts?
Documentation and software
Get product-specific information, firmware and software.
Go to documentation and software
Technical support
Contact our support staff for efficient, one-on-one assistance with your Axis products.
Get in touch
Axis 5-year warranty
Get information and details on your 5-year product warranty.
Go to warranty