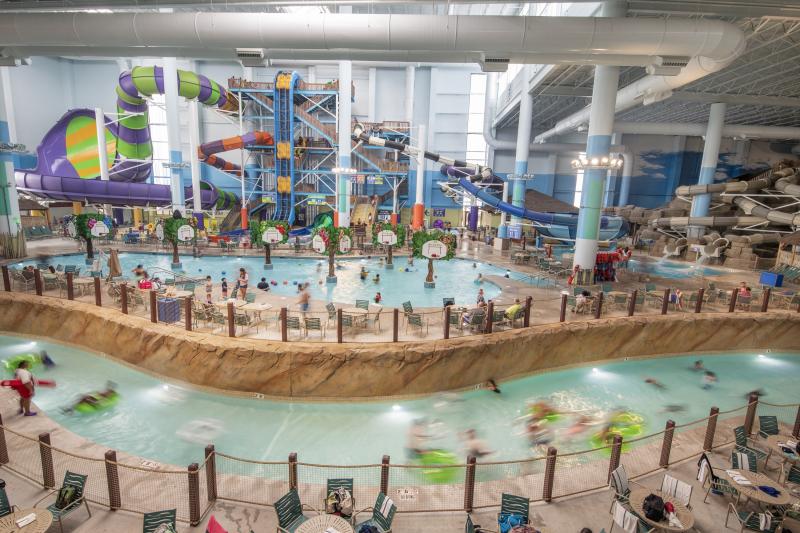 Camera Upgrade Counters Theft/Injury Claims
Organization:
Kalahari Resorts & Conventions
Location:
Sandusky, Ohio, United States
Customer need:
Personal safety, Public safety, Property and asset protection, Traffic management, Operational efficiency
Sandusky, Ohio, United States,
A security overhaul gave Kalahari Resorts hundreds of new, intelligent surveillance cameras and body-worn cameras from Axis Communications, which are helping drastically reduce theft, improve safety efforts, and counter injury claims.
Whether they're in the water park or arcade, the restaurants or convention center, or even just passing through a hallway or parking lot, the guests of Kalahari Resorts & Conventions in Sandusky, Ohio, can be assured of a very secure environment that safeguards evidentiary details for their protection.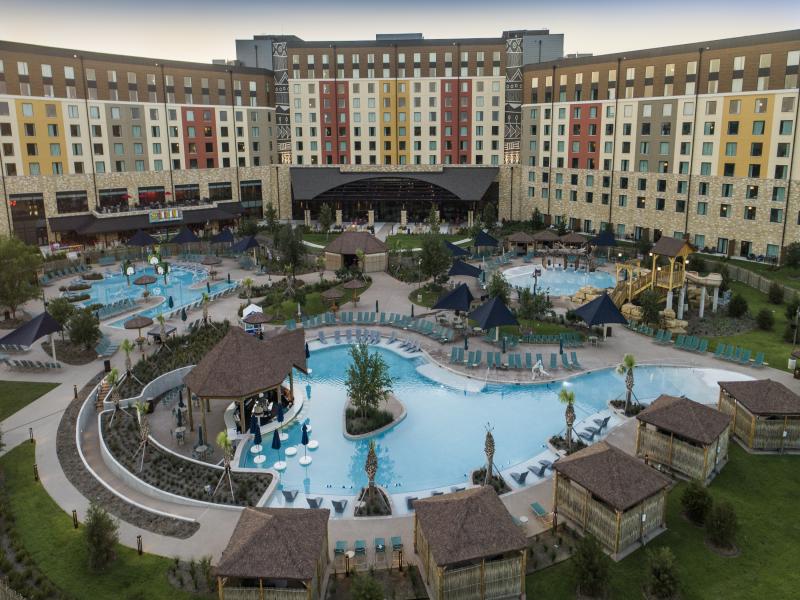 Kalahari Resorts & Conventions (Kalahari) counts on a comprehensive system from Axis Communications to help the security team do their jobs with ease and assuredness. The system encompasses an extensive network of surveillance cameras, many of which can incorporate video analytics at the edge, and body-worn cameras used by security and emergency medical teams. Together these cameras capture critical details of activities at the resort through more than 700 camera views. 
Kalahari comprises four African-themed family vacation destinations that combine indoor and outdoor water parks, luxury spas, restaurants, and convention center facilities in one setting. All of the resorts now standardize on Axis security equipment and they are at various stages of replacing older devices with Axis cameras.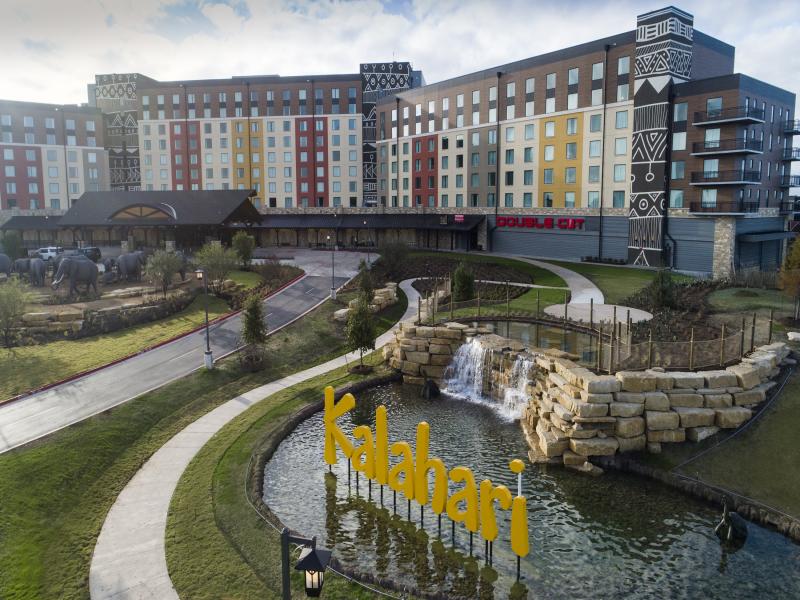 The 890-room Sandusky resort is concerned with protecting not only overnight guests, but also those spending the day at the water park. Cody Reed, director of security operations for the Sandusky location of Kalahari Resorts & Conventions, says over the past few years there has been an uptick in overall security issues involving guests throughout the hospitality industry.
In addition, due to the nature of hosting a water park, the resort regularly addresses guest medical incidents. The security department works side-by-side with Kalahari's on-site EMS department to preserve video from every incident and conduct investigations regularly.
Another active area of the Sandusky resort is its on-site convention center, which hosts upwards of 250 events each year, including weddings and conventions. Reed says it's important for exhibitors and convention-goers to feel that their property is well-secured during these events.
In instances where a claim escalates to a lawsuit, I'm able to send their attorney the subpoenaed footage and the case is dismissed based on the fact that their claim is not lining up at all with our evidence.
Director of Security Operations for the Sandusky location of Kalahari Resorts & Conventions
Incentive to upgrade
In 2017, the resort experienced an isolated incident in one of its parking lots that required law enforcement's response. Reed says the surveillance system at the time was difficult to use and wasn't capable of producing the quality of video evidence needed to provide law enforcement partners quick identification as well as thorough coverage of the incident. Although no one was hurt, the resort recognized that they needed better video coverage of their parking lots, as well as a system upgrade to more effectual technology overall.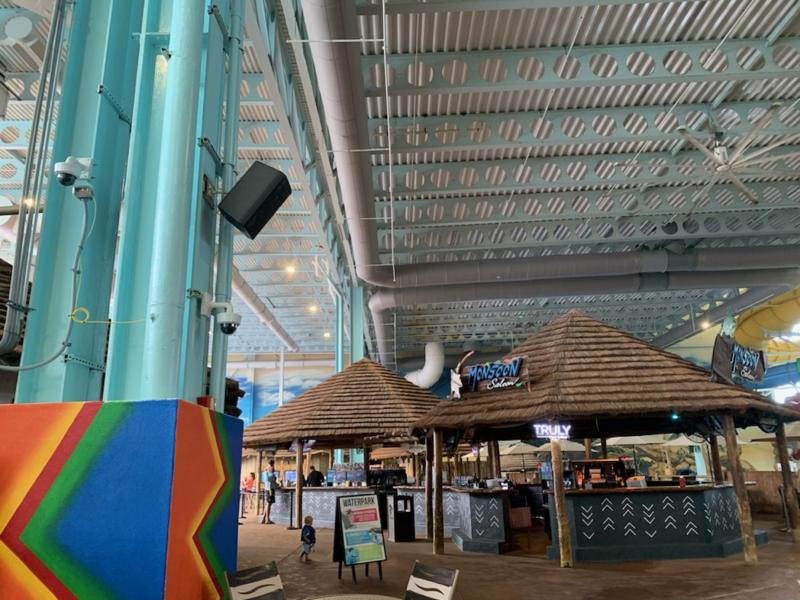 One of the resort's vendors recommended that they speak with Axis Communications due to its reputation and versatility of products. Of the several different camera brands that comprised the resort's security system at that time, Reed assessed that the Axis cameras had the best quality. It was one of the deciding factors to go with Axis exclusively for the upgrade from analog to digital security.
A proposal was created which called for replacement of all existing cameras, expanded coverage in hallways and parking lots, and in areas that were previously lacking due to structural limitations. Installing new cameras in the parking lots was done without removing any pavement by boring underneath and running fiber. 
Northwestern Ohio Security Systems Inc. (NWOSS) was not involved at the beginning of the contract but was brought on later. Their role has been to resolve any installation issues, and work with Kalahari Resorts on new additions and changes, says Cory Baker, engineer at NWOSS. NWOSS also brings new features and technologies to Reed's attention in an effort to continually improve the security operation at the Sandusky resort.
Cameras and analytics
The original surveillance system comprised approximately 430 mostly single-view cameras. The new system at Kalahari in Sandusky includes more than 600 cameras — many of which offer multiple views from a single device, resulting in 718 independent views. 
For parking lots, the resort selected cameras from the Axis Q37 Series. These fixed dome devices contain three sensors each, which together provide a detailed 180-degree view of large areas. Reed says if the lighting conditions are right, security can read the license plate on a parked vehicle without sending an officer to read it.
"Additionally, because of the way the cameras are set up, we're able to watch someone walk from view to view to view and know where they're heading," Reed says.
The resort also utilizes eight Axis license-plate reading cameras (AXIS Q17 Network Cameras) strategically placed around the property, which capture sharp license plate images day or night using IR illumination. Reed says they are one of the resort's most important assets and come in handy in situations where people dine in a restaurant and then leave without payment. Additionally, the Sandusky facility has a cooperative agreement with law enforcement to share video, so the license plate recognition cameras are key to helping with their investigations.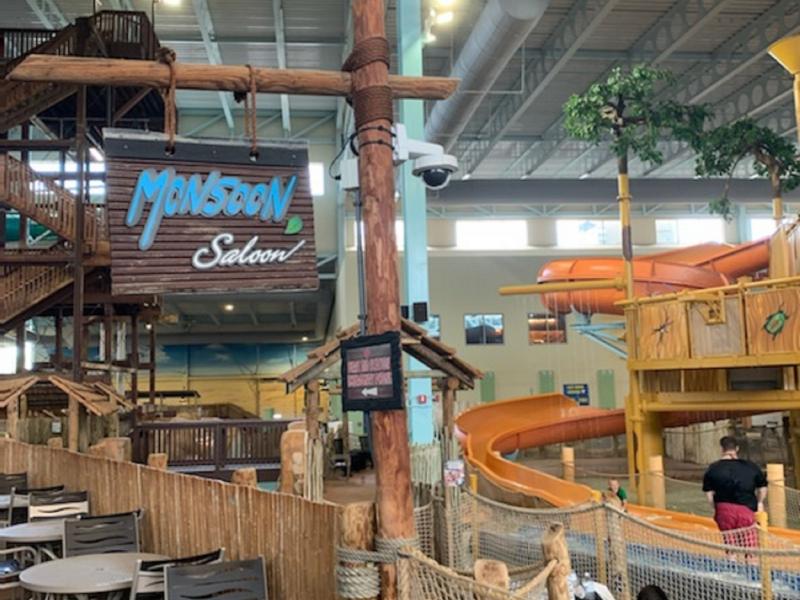 Axis Q-line cameras are used in both the indoor and outdoor water parks because of their expansive view and outdoor-ready features, such as a wide operating temperature range. AXIS P37 and P38 Series cameras are used in the mini golf course, as well as in difficult-to-see areas such as back corners of restaurants. The resort also uses eight Axis Q-line pan-tilt-zoom (PTZ) cameras sparingly, for situational coverage. 
The number one used device on the Sandusky property are the AXIS M30 Series products with fisheye lenses. They are used in the convention center, the water parks, and in guest hallways to supplement coverage, particularly where wings meet other wings.
"We have coverage everywhere. However, unless there is an officer actively patrolling in person or monitoring the cameras, we don't have anything that triggers an alert to notify us that something is being detected in our outdoor water park," Reed says. "Out of an abundance of concern for guest safety and ensuring that our property is being protected, analytics are something that we're very eager to see utilized." Many of the Axis cameras in the new system are already capable of supporting analytics, and it is Kalahari Resort's goal to implement them. 
Both the security and EMS teams use the 10 new Axis body-worn cameras. The staff are required to wear them at all times when they are patrolling and to record as often as possible, especially any time there is an incident. The body-worn cameras integrate with the other Axis surveillance cameras in a single system.
Kalahari Resorts Sandusky operates many of the Axis cameras at a lower resolution than what they're capable of in order to improve retention, Reed describes. "And even then, the video is astonishing. It used to be we were lucky if we could make out rough skin tone and maybe a couple of colors from a bathing suit when we would review video with our analog system. And now we can tell what tattoos they have," he describes. 
With the way the new cameras are positioned and the multiple angles, the resort is able to review at least 90 days of video. "It has been incredibly helpful coming to that from a system in which we only had access to about two weeks of footage," Reed says.
Reduction in theft and claims
On-site theft at the resort decreased by approximately 52 percent in the first year and 67 percent in the second year since the surveillance system overhaul. Reed says it is relatively rare for an item at the water park to be stolen since "the idea got out that Kalahari Resorts & Conventions is not a soft target."
The surveillance system upgrade provides more information about guest conduct than the previous system did, allowing the security team to be friendly but firm when enforcing the rules. "Being able to ensure that our guests are following our policies and don't need to be asked to leave the resort is invaluable to us as a security team," Reed says.
He says the greatest savings provided by the new surveillance system, however, has been in claims and potential lawsuits. "I've been able to deter individuals that have been involved in security incidents and even taken the action of filing a lawsuit, because I'm able to show them, 'This is what you did and this is why you're not going to win.' In instances where it escalates to a lawsuit, I'm able to send their attorney the subpoenaed footage and the case is dismissed based on the fact that their claim is not lining up at all with our evidence," Reed says.
"Our video contradicts what they're stating occurred, and our company doesn't have to pay. Whereas prior to this upgrade, we frequently had to accept that we would be incurring cost for various claims because we didn't have adequate evidence to dispute what they were saying occurred."
With all of these critical benefits, Reed attributes the success of the upgraded security surveillance system at Kalahari Resorts Sandusky to both NWOSS and Axis for their expertise and support. "They've been with us every step of the way."
Our partner organizations