AXIS T8504-E Outdoor PoE Switch
Copy the product name
Copied
Managed, plug-and play outdoor switch
Plug-and-play installation
SFP port – for fiber installation
Power over Ethernet (PoE)
Up to 60 W per port (total 150 W)
IP67 rating
AXIS T8504-E Outdoor PoE Switch gives you a quick, easy way to deploy outdoor cameras over long distances while keeping your installation costs low. With an integrated SFP port, it's perfect for fiber-based installation. And remote management allows for easy maintenance.
For long distance connections
AXIS T8504-E is specifically designed for fiber-optic connections, typically used in city surveillance, airports, and other long-distance installations. Made for the surveillance industry, this plug-and-play switch is a perfect complement to both Axis and third-party solutions.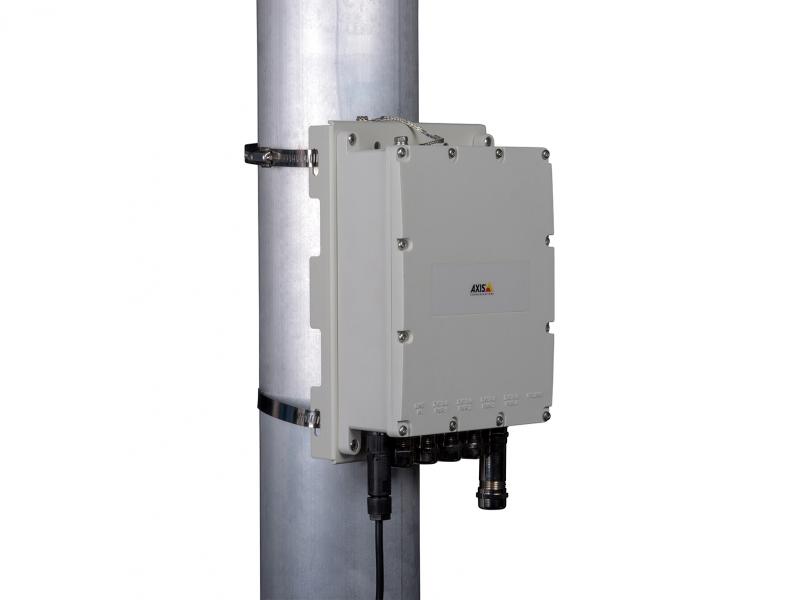 Easy installation
AXIS T8504-E is easy to install using standard Axis tools. For instance, AXIS IP Utility automatically discovers and displays Axis devices on the network and help you set the IP address of an Axis network video product. 
Cost-efficient ownership
With a one-time purchase cost, no service fees, and Axis as your single point of contact, AXIS T8504-E offers cost-efficient ownership. This product comes with 5 years warranty and 24/5 first-class support, so you can rest assured that you'll receive assistance wherever you are, whenever you need it. Furthermore, this cost-efficient switch ensures an optimal power budget. Each port of an Axis switch supports PoE class 3, with some offering up to 60 W per port. Additional power can also be added by connecting midspans.
Compatible products
To find a compatible product, simply use the filters below.
Discontinued products
The following compatible products have been discontinued.
Audio system devices
Fixed box cameras
Fixed bullet cameras
Fixed dome cameras
Modular cameras
Network intercoms
Network speakers
Network video recorders
Onboard cameras
PTZ cameras
Panoramic cameras
Positioning cameras
Security radars
Specialty cameras
Thermal cameras
Video encoders
Workstations
How to buy
Axis solutions and individual products are sold and expertly installed by our trusted partners.
Want to buy Axis products?
Find resellers, system integrators and installers of Axis products and systems.
Find a reseller
Want to sell Axis products?
Interested in becoming a reseller? Find contact information for distributors of Axis products and systems.
Find a distributor
Become a partner
Are you a reseller, distributor, system integrator or installer? We have partners in nearly every country in the world. Find out how to become one!
Become a partner
Part number for ordering
| Name | Axis region | Part number |
| --- | --- | --- |
| AXIS T8504-E Outdoor PoE Switch | AU, EU, JP, UK, US | 01449-001 |
Support and resources
Need Axis product information, software, or help from one of our experts?
Documentation and software
Get product-specific information, firmware and software.
Go to documentation and software
Technical support
Contact our support staff for efficient, one-on-one assistance with your Axis products.
Get in touch
Axis 5-year warranty
Get information and details on your 5-year product warranty.
Go to warranty