AXIS Q9216-SLV Network Camera
Copy the product name
Copied
Impact-resistant anti-ligature camera
Anti-ligature, robust (IK11)
Corner camera– no blind spots
WDR and invisible IR (940 nm)
Compact design – easy to install
Zipstream supporting H.264 and H.265
AXIS Q9216-SLV is a compact and robust ligature-resistant (anti-ligature) corner-mount camera specially designed to provide a wide field-of-view and ensure no area is left uncovered. Available in white and elegant stainless-steel, this low power consuming camera is ideal for high-security installations such as in prisons and psychiatric wards.
See it all - day and night
AXIS Q9216-SLV offers 4 MP video quality and can cover 125 degrees horizontally and 95 degrees vertically, with no blind spots. Ideal in prison cells, it features 940 nm invisible IR illumination for unobtrusive surveillance in total darkness that won't irritate or provoke the occupant.* Wide Dynamic Range (WDR) ensures clarity even when there's both dark and light areas in the scene. And, Axis Zipstream technology with support for both H.264 and H.265 video compression significantly reduces bandwidth and storage requirements without compromising image quality.
Occupant safety and privacy
With a ligature-resistant (anti-ligature) design, this robust camera can help prevent self-harm, especially important in high-security installations. The vandal-resistant IK11 rated casing also offers IP66-rating for protection from dust and water. For added peace of mind, it includes a tampering alarm as well as shock and casing open detection so you can be informed if there's any attempt to interfere with the camera. It features a removable built-in microphone which can be mounted if audio surveillance is required. Furthermore, AXIS Q9216-SLV includes an indication LED to see if the camera is active or not as well as polygonal privacy masking ensuring occupant privacy is respected.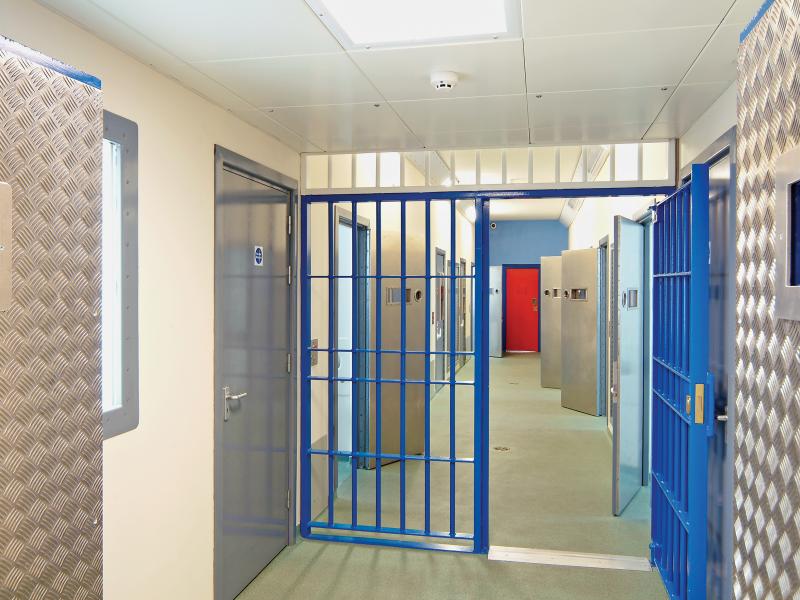 Enhanced security features
This high-performance camera is packed with advanced security functionality to prevent unauthorized access and safeguard your system. Signed firmware ensures that only authorized firmware is installed and guarantees that it hasn't been compromised. Furthermore, it includes a Trusted Platform Module (TPM, FIPS 140-2 level 2 certified) to ensure secure storage of all cryptographic keys and certificates even in the event of a security breach.
Compact and easy to install
This compact camera offers simple and cost-effective installation. The chassis and mounting bracket are specially designed for versatile cable management and mounting options. It's possible to connect to various conduits and connectivity devices to the back of the camera, such as AXIS T8643 PoE+ over Coax Compact or other compatible media converters and PoE extenders.  Additionally, you can mount a conduit top box with space for additional conduits. Once the camera is mounted you can create a ligature-resistant (anti-ligature) installation by applying tamper-resistant security sealant along the edges to permanently seal it to the wall or ceiling. And, even if the back chassis is sealed to the wall, the camera can still be easily removed for service and maintenance.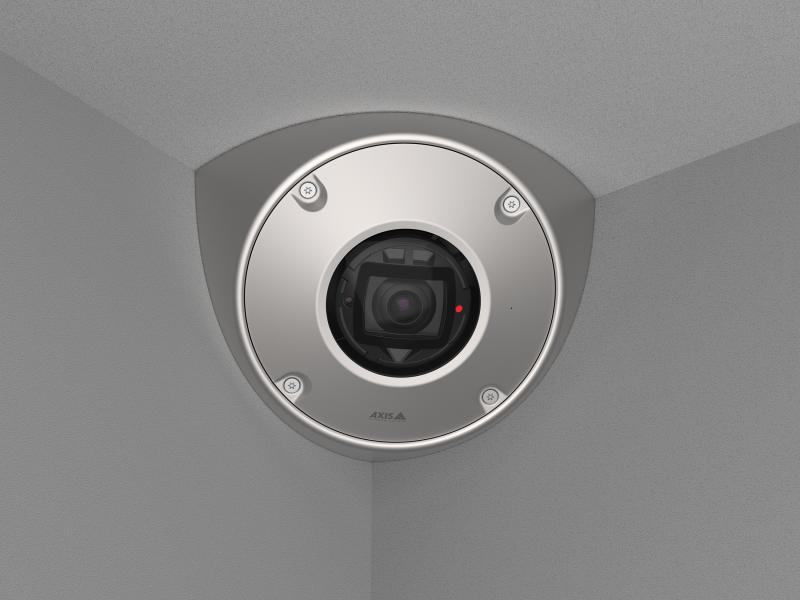 Easy to clean and maintain
For ease of maintenance, the stainless-steel casing is IP66- and IP6k9k-rated to allow cleaning with high pressure, high temperature water jets. If the camera is severely soiled or defaced, the abrasion-resistant two-part front cover is easily removed, and the window can be cleaned more thoroughly with detergent or simple graffiti remover. 
* In complete darkness, invisible IR illumination can have a low glow.
Technical specifications
Models: AXIS Q9216-SLV Steel / AXIS Q9216-SLV White
Camera
| | |
| --- | --- |
| Image sensor | CMOS |
| Image sensor size | 1/2.5 |
| Lightfinder | – |
| Wide dynamic range | WDR |
| Min illumination/ light sensitivity (Color) | 0.23 lux |
| Min illumination/ light sensitivity (B/W) | 0.05 lux |
Video
| | |
| --- | --- |
| Max video resolution | 2304x1728 |
| Max frames per second | 25/30 |
| Day and Night functionality | Yes |
| Electronic image stabilization | – |
Lens
| | |
| --- | --- |
| Focal length | 2.4 mm |
| Horizontal field of view | 125 ° |
| Vertical field of view | 95 ° |
Compression
| | |
| --- | --- |
| Zipstream | Yes |
| H.264 | High, Main |
| H.265 | Yes |
| Motion JPEG | Yes |
Audio
| | |
| --- | --- |
| Audio Support | Yes |
| Built-in microphone | Yes |
Security
| | |
| --- | --- |
| Signed firmware | Yes |
| Secure boot | – |
| Axis Edge Vault | – |
General
| | |
| --- | --- |
| Remote focus | – |
| Remote zoom | – |
| Built-in IR | Yes |
| Local storage (memory card slot) | Yes |
| Operating temperature | -20 to 50 °C |
| Outdoor Ready | – |
| Vandal rating | IK10+ |
| IP rating | IP66, IP6K9K |
| Designed for repaint | Yes |
| Sustainability | BFR/CFR free, PVC free |
* Some technical specifications may vary depending on which hardware option you choose.
Analytics
Make your network camera solution more intelligent with powerful analytics and functionality.
Accessories
To find the right accessory, simply use the filters below.
Discontinued products
The following compatible products have been discontinued.
Edge storage
I/O devices
Power
How to buy
Axis solutions and individual products are sold and expertly installed by our trusted partners.
Want to buy Axis products?
Find resellers, system integrators and installers of Axis products and systems.
Find a reseller
Want to sell Axis products?
Interested in becoming a reseller? Find contact information for distributors of Axis products and systems.
Find a distributor
Become a partner
Are you a reseller, distributor, system integrator or installer? We have partners in nearly every country in the world. Find out how to become one!
Become a partner
Part number for ordering
| Name | Axis region | Part number |
| --- | --- | --- |
| AXIS Q9216-SLV White | AR, AU, BR, CN, EU, JP, KR, UK, US | 01767-001 |
| AXIS Q9216-SLV White | IN | 01767-113 |
| AXIS Q9216-SLV Steel | AR, AU, BR, CN, EU, JP, KR, UK, US | 01766-001 |
| AXIS Q9216-SLV Steel | IN | 01766-113 |
Support and resources
Need Axis product information, software, or help from one of our experts?
Documentation and software
Get product-specific information, firmware and software.
Go to documentation and software
Technical support
Contact our support staff for efficient, one-on-one assistance with your Axis products.
Get in touch
Axis 5-year warranty
Get information and details on your 5-year product warranty.
Go to warranty