AXIS People Counter
Count people to make informed decisions
Optimize operational efficiency
Gain actionable insights
Analyze visitor trends
Estimate occupancy levels
Evaluate site performance
AXIS People Counter offers a cost-effective and reliable way to count people and understand foot traffic in different areas within your premises. From retail stores to public buildings and airports, this valuable information helps you make informed decisions to optimize your business operations.
Understand your visitors
Whether you want to evaluate site performance, enhance visitor experience, or reduce costs, AXIS People Counter delivers actionable insights. With reliable counting of people in both directions simultaneously, this smart application gives you direct access to real-time counting data. And, it tracks when people enter and exit your premises so you can analyze visitor trends and identify peak visitor times. Using these valuable insights, you can adjust your staffing, maintenance work, and optimize operational efficiency by planning and supplying to meet actual traffic and demand.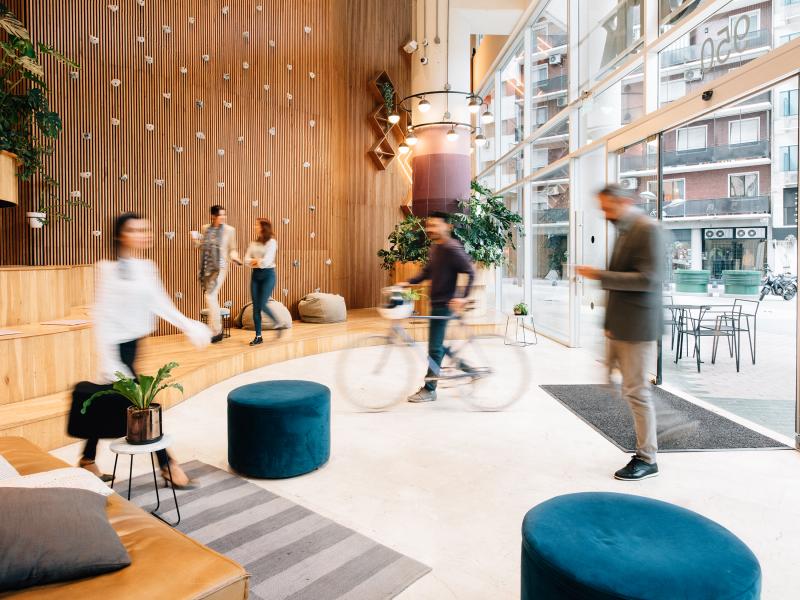 Insight beyond people counting
This cost-effective application can also estimate real-time occupancy levels and provide data on the number of people present in your premises or in certain areas at specific times.  This information helps you understand visitor flow and occupancy trends so you can improve how spaces are used, get an indication of the revenue opportunities, and measure demand for service planning. You can also inform potential visitors about peak visitor times or when your premises are at full capacity. And, you can take measures if occupancy levels exceed your set threshold. It's also possible to integrate the application with a building management system to help optimize HVAC system usage and reduce energy consumption.
Additionally, AXIS People Counter can detect and notify you if people move in the wrong direction, or if more than one person enters within a set time interval. Plus, you can configure it to automatically respond to these events. For instance by playing an audio message, activating an alarm, or closing an entrance door.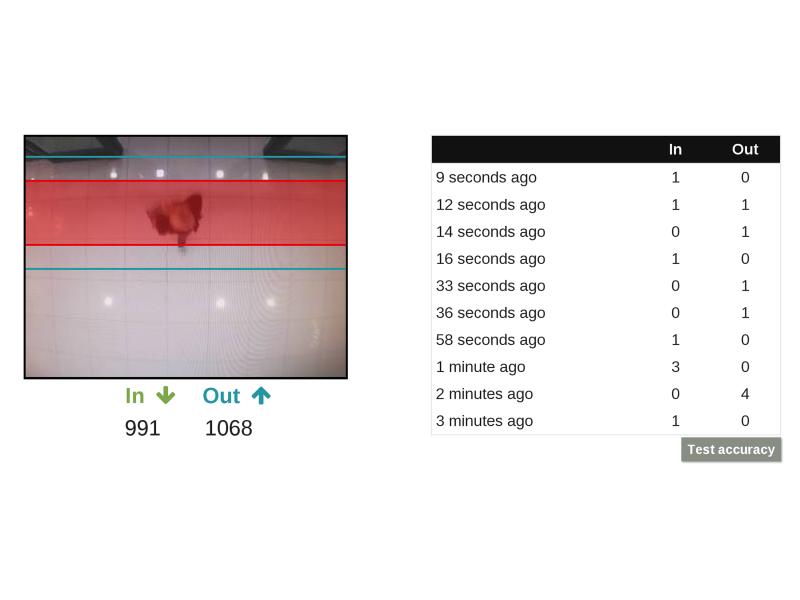 Smart decisions made easy
AXIS People Counter runs embedded in compatible ceiling-mounted Axis cameras, where it automatically counts people passing by, disregarding things like strollers and carts. It essentially turns your indoor Axis camera into a highly advanced sensor. This scalable application doesn't require central-based servers, helping reduce costs. For wide entrances coverage, simply connect multiple cameras running AXIS People Counter. You can also define the counting area to suit the specific entrance. Furthermore, the application can be remotely configured, managed, and monitored giving you instant access to statistics from all your cameras. This means you can review and compare multiple sites at once—all from one central location. 
Reliable data. Low bandwidth.
Protecting privacy and personal data, this edge-based application only captures and stores statistical numerical data. It doesn't save events triggered by the application, so none of the information captured can be used to identify people. All information is stored directly on each installed camera, reducing bandwidth and storage requirements. Based on open APIs, the data can be easily integrated into third-party applications. For instance, it can be combined with POS data so you can evaluate how frequently your visitors make a purchase. 

The data is saved for up to 90 days and can be accessed in multiple ways:
By using a standard web browser to access the camera's web interface.
By sending static raw data to a remote destination.
By downloading static raw data, available in various formats, through an open API in the camera.
By using AXIS Store Reporter, our statistical web-based service.
Through AXIS Store Data Manager, a locally run software program for easy integration of data into third-party business intelligence applications.
How to buy
Axis solutions and individual products are sold and expertly installed by our trusted partners.
Want to buy Axis products?
Find resellers, system integrators and installers of Axis products and systems.
Find a reseller
Want to sell Axis products?
Interested in becoming a reseller? Find contact information for distributors of Axis products and systems.
Find a distributor
Become a partner
Are you a reseller, distributor, system integrator or installer? We have partners in nearly every country in the world. Find out how to become one!
Become a partner
Part number for ordering
| Name | Axis region | Part number |
| --- | --- | --- |
| AXIS People Counter eLicense | AR, AU, BR, CN, EU, IN, JP, KR, UK, US | 01147-011 |
Download
AXIS People Counter
The latest version of this software is 4.0.0
Login to download - Integrity checksum:
note
For trial license, please contact your local Axis office.
The application can be installed on compatible Axis cameras with firmware 5.7 or higher. If your camera does not have the latest firmware, see how to upgrade the firmware and then find the latest firmware for your camera here.
Support and resources
Need Axis product information, software, or help from one of our experts?
Supporting documents
Get datasheets, manuals, specifications and other resources for this product.
Go to product support
Technical support
Contact our support staff for efficient, one-on-one assistance with your Axis products.
Get in touch