Onboard cameras
For use on vehicles and rolling stock
Onboard surveillance comes with its own unique set of requirements and challenges: limited physical space, extreme shock and vibration, rapidly shifting light conditions, minimal storage space, and more. Which is why Axis onboard cameras are specifically engineered to live up to all of that and more.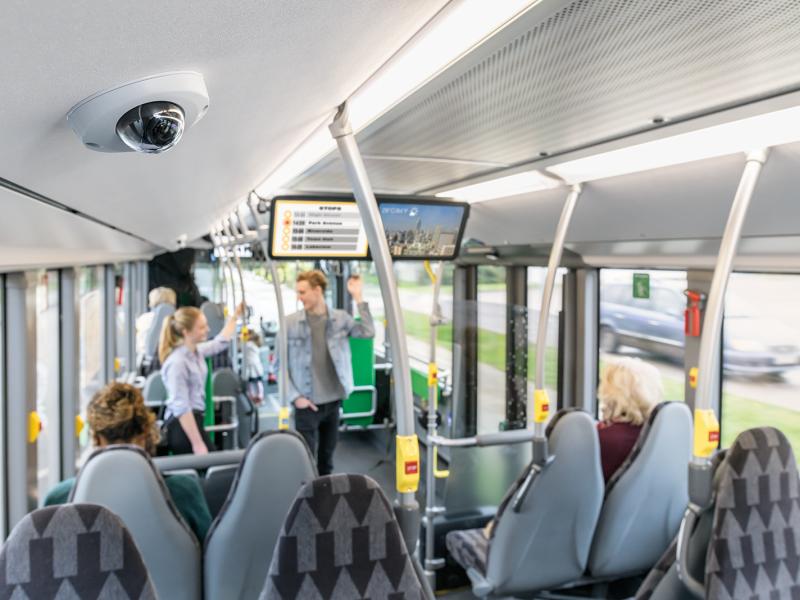 Rough and ready – for rolling stock
Ruggedized AXIS P39 cameras are ideal for surveillance on board trains, trams, and metros. The cameras comply with the most stringent EN50155 standards for railway applications. So they offer every ounce of the reliability you expect from Axis, plus the "more, more, and more" you need for vehicles and rolling stock. Of course, these cameras are also perfect for buses, emergency vehicles, trucks and even industrial environments where they are exposed to a great deal of shock and vibration.
Small and discreet – for buses and emergency vehicles
If you're looking to make the most of the small amount of space available on board buses and emergency vehicles, the modular AXIS F Series fits the bill. Because they consist of two detached parts that can be mounted apart from each other, you can fit them almost anywhere. They also provide the ultimate in discretion.
Tough light conditions? Not a problem
Advanced image-processing algorithms mean instantaneous adjustment to rapidly changing light as vehicles and rolling stock move across the landscape – particularly when they enter and exit tunnels. Traffic light mode, in AXIS P39 Series cameras, makes it possible to really distinguish between signal light colors. And the power of technologies like WDR and Lightfinder combat strong backlight and low light. Plus a wide selection of lenses and sensor units makes it possible to attain the right field of view under any circumstances.