AXIS T6101 Mk II Audio and I/O Interface
Seamlessly add audio and I/O to your Axis cameras
Add two-way audio and I/O to Axis cameras
No need for additional IP address
One stream for audio and video
Plug-and-play installation
Using portcast technology, AXIS T6101 Mk II allows audio and I/O to be transferred digitally over the network cable between the camera and the interface. When connected, it enables the seamless use of audio and I/O.
Add functionality to your cameras
AXIS T6101 Mk II offers great possibilities to add value to your Axis cameras and extend the functionality of your surveillance system. You can use a microphone for audio analytics or when recording video and audio in one stream. When connected to an external speaker, it also allows you to play audio clips. And, with digital input/outputs, you can connect external sensors or detectors to trigger alarms or actions.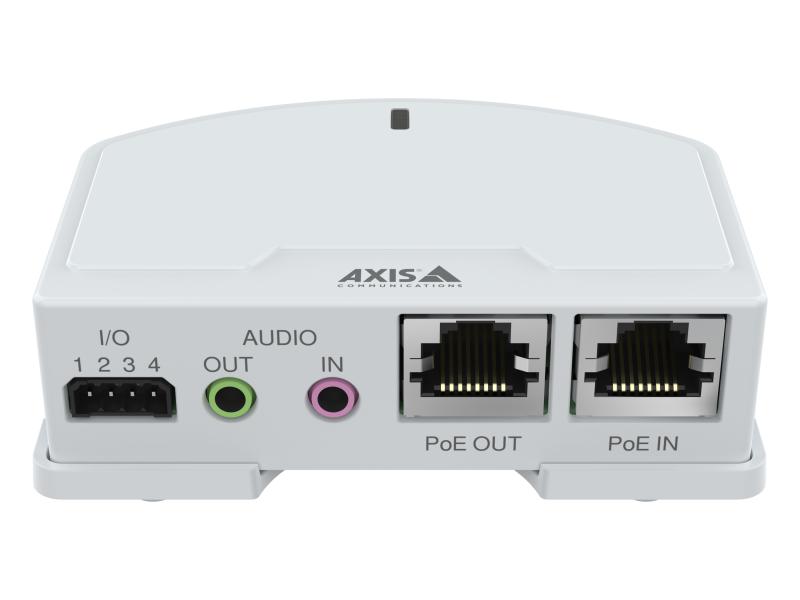 Seamless installation and integration
AXIS T6101 Mk II offers plug-and-play installation using a single ethernet cable between the camera and the switch. Plus, it can be seamlessly integrated into your video management software without the need for additional IP addresses or VMS licenses.
Discontinued products
The following compatible products have been discontinued.
Fixed dome cameras
PTZ cameras
Panoramic cameras
How to buy
Axis solutions and individual products are sold and expertly installed by our trusted partners.
Want to buy Axis products?
Find resellers, system integrators and installers of Axis products and systems.
Find a reseller
Want to sell Axis products?
Interested in becoming a reseller? Find contact information for distributors of Axis products and systems.
Find a distributor
Become a partner
Are you a reseller, distributor, system integrator or installer? We have partners in nearly every country in the world. Find out how to become one!
Become a partner
Part number for ordering
| Name | Axis region | Part number |
| --- | --- | --- |
| AXIS T6101 Mk II Audio and I/O Interface | AR, AU, BR, CN, EU, IN, JP, KR, UK, US | 02553-001 |
Support and resources
Need Axis product information, software, or help from one of our experts?
Documentation and software
Get product-specific information, firmware and software.
Go to documentation and software
Technical support
Contact our support staff for efficient, one-on-one assistance with your Axis products.
Get in touch
Axis 5-year warranty
Get information and details on your 5-year product warranty.
Go to warranty