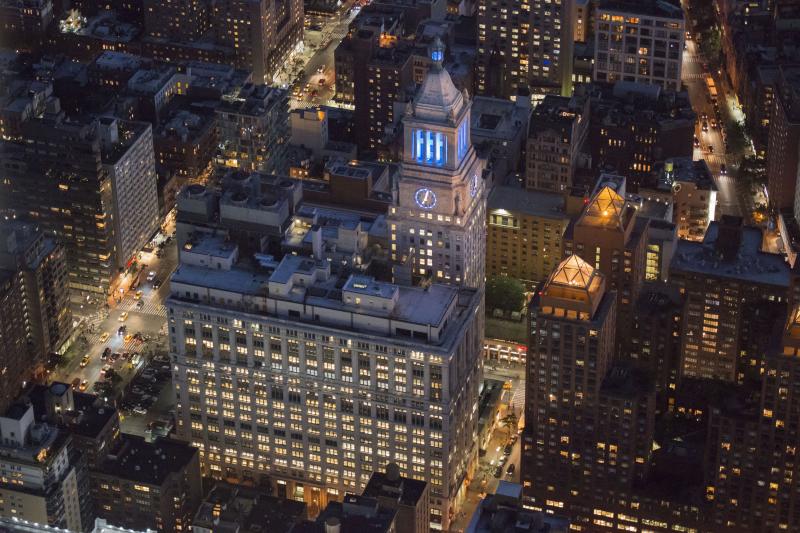 Eye on the Sky
Organization:
Consolidated Edison of New York
Location:
New York, New York, United States
Customer need:
Property and asset protection, Perimeter and area security
New York, New York, United States,
Consolidated Edison patrols its airspace with Axis 360-degree cameras and Dedrone® counter-drone solution to detect, track, identify, and assess whether approaching drones pose a potential threat.
Managing power for the five boroughs
Consolidated Edison of New York is one of the largest investor-owned energy companies in the United States. Founded in 1823 to light and maintain the gaslight lamps for New York City, today ConEd is responsible for routing electricity, gas, and steam services to more than 10 million customers across the five boroughs of New York City and Westchester County, NY. Its secure Tier One (critical infrastructure) building in the heart of New York City serves as the control center for all power entering and exiting the city.
Protecting this critical infrastructure has been a top priority for the company. A security audit confirmed that the existing advanced perimeter and access control technology was providing ample protection to safeguard the facility but the property's security manager worried that there might still be a significant security gap.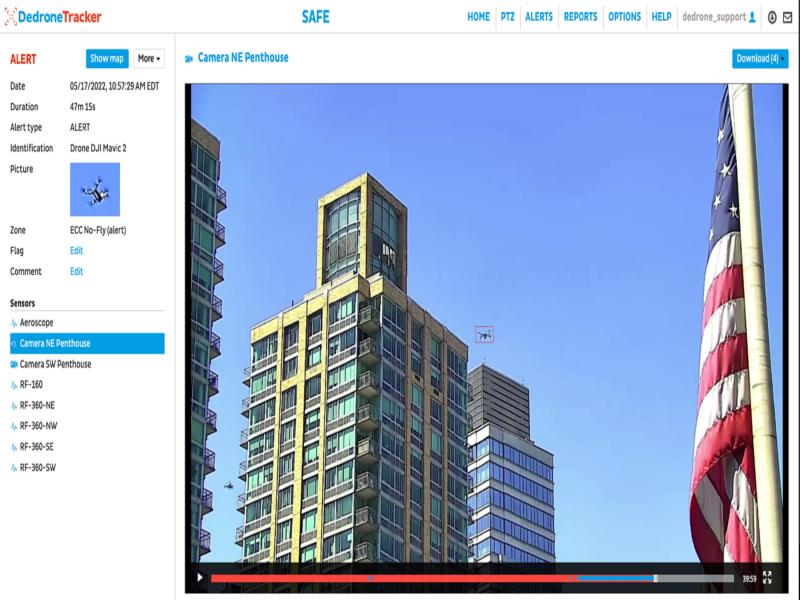 "I had some concerns about the airspace directly above the building and what we might do to defend it," shares Scott Gross, Security Manager for Consolidated Edison of New York. Could low-flying drones gain access to the Tier One infrastructure and disrupt service or cause other harm to ConEd's operations?
ConEd needed a long-range way to spot these miniature aircraft and ascertain if they were simply a nuisance or were carrying a malicious payload. [Photo on right shows active drone alert on DedroneTracker]
The Department of Homeland Security has told us that ConEd's Dedrone®/Axis solution is one of the most comprehensive anti-drone systems of any non-federal agency in the country.
Security Manager for Consolidated Edison of New York
Assessing threats from the ground to the sky 
To determine if this was a needless worry, Gross hired Dedrone®, a counter-drone solution company and Axis technology partner, to conduct a risk assessment to establish baseline data about drone activity above the site. Despite Manhattan being a designated Class B airspace by the Federal Aviation Administration, and therefore a drone no-fly zone, DedroneSensors placed on the rooftop detected significant drone activity within 400 feet of the building.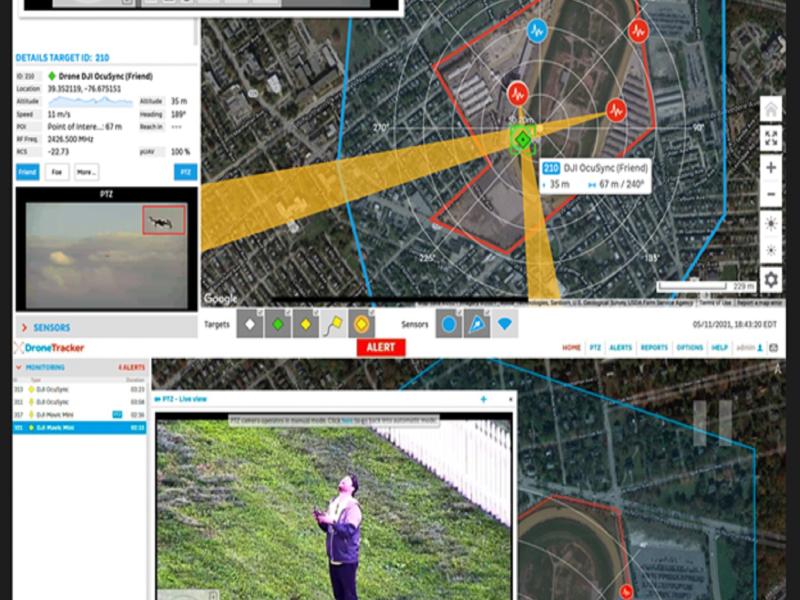 The findings spurred ConEd to invest in the DedroneTracker system, software platform designed to detect and protect buildings against drone-based threats. Omni-directional DedroneSensors and multi-directional AXIS Q62 Series PTZ network cameras (360-degree horizontal and 90-degree vertical) draw on Dedrone's vast drone library to identify the make and model of the drone invading ConEd's airspace. The Axis cameras use their 30x optical zoom to track the drone's flight path and visually verify the type of drone and its payload. The DedroneSensors can also triangulate the location of the drone's pilot. DedroneTracker automatically sends all this information to watch engineers in ConEd's security department so they can monitor the activity in real-time and take any necessary steps to protect their operation. [Photo on left shows DedroneTracker locating an unauthorized drone and its pilot and directing camera for visual confirmation.]
Since the Dedrone®/Axis solution was installed, ConEd has detected over 7,500 drone incursions into its airspace. The company has been able to ascertain whether drone activity is coinciding with specific activity within the facility – like security shift changes, arrival of shipments, or other operational events. ConEd shares this data –about the type of drones spotted, time of day, and video evidence of their incursion – with local law enforcement, who decides if any legal action should be taken against the drone operator.
Harmless nuisance vs. dangerous intruder
"To be perfectly frank, I have no problem with recreational drone flights," says Gross. "But we have to take steps to protect our airspace against potential threats."
 
Gross mentions a few ways a malicious drone could damage ConEd's operations. Since most of today's drones are equipped with 4K cameras, they could scope out ways to breach the facility or stalk specific employees. They could hover above a windowsill to eavesdrop on phone calls. If they carried an electromagnetic interference (EMI) device, they could jam communications. They could dangle a copper wire to short-circuit vital power lines. Or they could be carrying an explosive payload to destroy equipment.
"While our bulk power system and grid are pretty resilient, we still need to be ready to react quickly if we lose connection to our Tier One building because not only could we lose power to millions of customers, ConEd could also be facing stiff fines for those outages," explains Gross. "And if there were a catastrophic explosion, we'd have to absorb the cost of repairing and rebuilding our network."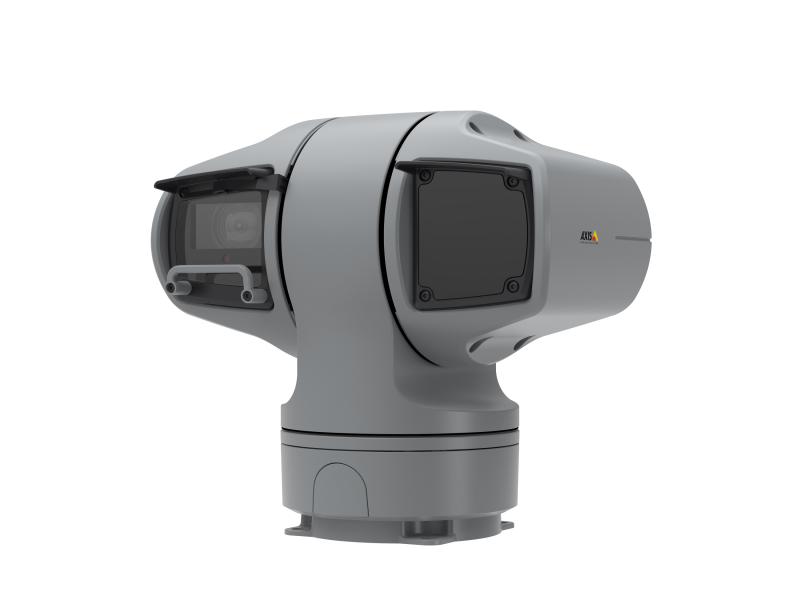 Protecting the energy grid
Jackson Markey, Director of Critical Infrastructure for Dedrone®, reports that the integration between Dedrone and Axis has had a big impact on how the solution can assess a threat. "The cameras play an essential role in ConEd's airspace security. It's not just a matter of visually confirming that there is a drone in their airspace, their security team needs to know what that drone is carrying," says Markey. "Being able to visually inspect that payload with the Axis cameras helps them qualify the nature of the threat and instantly initiate the proper response." [Photo on right depicts the AXIS Q62 Series PTZ camera.]
Scott Gross shared some of the procedures ConEd security put in place to mitigate drone threats. "Basically they're checking to see if there's any unusual activity. If there is any, we would take internal action to mitigate any damage and stop potential hacking that could occur."
One of those options would be to switch network control to an alternate secure location. Once the secure connection was established, ConEd could shut down the networks at the Tier One location, and service to customers could continue uninterrupted.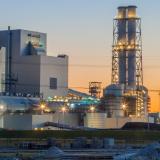 Critical infrastructure
Integrated solutions for safety, security, and efficiency in the oil and gas, power and energy, water treatment, and communication tower industries.
Learn more
AXIS Q62 PTZ Camera Series
Heavy-duty PTZ camera with OptimizedIR
Learn more
Our partner organizations