AXIS M42 Dome Camera Series
Affordable varifocal domes
Great images up to 8 MP
Varifocal lens with remote zoom and focus
WDR, Lightfinder and OptimizedIR
Analytics with deep learning
HDMI output for public viewing monitors
Great image quality and discreet design
These affordable and compact varifocal cameras deliver great image quality in up to 4K even in challenging light. With a flexible field of view, you can choose to get the overview or detailed images. Plus, remote zoom and focus capabilities ensure sharp, high-resolution video with great details where needed. The series includes models with OptimizedIR for surveillance in pitch darkness. And Lightfinder for sharp, color images even in low light. They can be discreetly installed to blend in with any environment. Plus, with a wide range of accessories, they can be mounted just about anywhere indoors.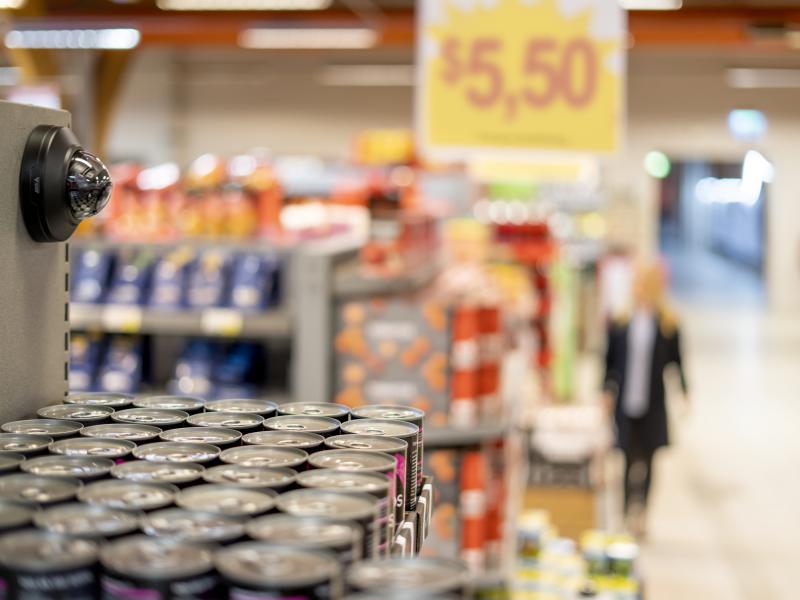 Extended possibilities
Featuring a deep learning processing unit, AXIS M42 Series supports advanced analytics based on deep learning on the edge. These high-performance cameras also allow you to collect and analyze valuable metadata—on the edge—for real-time events, forensic search, and statistical purposes. With AXIS Object Analytics preinstalled, you can track whenever an object stays in a defined area longer than a user-defined time, for example, to detect loitering. The series also offers support for audio or I/O connectivity using AXIS T61 Series. Furthermore, it includes Axis Edge Vault, a hardware-based cybersecurity platform that safeguards the device.
Compare products
| | AXIS M4215-LV | AXIS M4215-V | AXIS M4216-LV | AXIS M4216-V | AXIS M4218-LV | AXIS M4218-V |
| --- | --- | --- | --- | --- | --- | --- |
| Max video resolution | 1920x1080 | 1920x1080 | 2304x1728 | 2304x1728 | 3840x2160 | 3840x2160 |
| Horizontal field of view | 93-47 | 93-47 | 100-45 | 100-45 | 93-47 | 93-47 |
| Lightfinder | Lightfinder | Lightfinder | Lightfinder | Lightfinder | | |
| Wide dynamic range | WDR | WDR | WDR | WDR | WDR | WDR |
| OptimizedIR | | – | | – | | – |
| Remote zoom | | | | | | |
| Remote focus | | | | | | |
| Analytics compute capability | DLPU | DLPU | DLPU | DLPU | DLPU | DLPU |
| Zipstream | | | | | | |
| HDMI Output | | | | | | |
| Vandal rating | IK08 | IK08 | IK08 | IK08 | IK08 | IK08 |
| Axis Edge Vault | | | | | | |
Documentation
Datasheet

---

AXIS M4215-LV Dome Camera

(pdf) 706.36 KB

AXIS M4215-V Dome Camera

(pdf) 1.5 MB

AXIS M4216-LV Dome Camera

(pdf) 1.2 MB

AXIS M4216–V Dome Camera

(pdf) 1.21 MB

AXIS M4218-LV Dome Camera

(pdf) 1.32 MB

AXIS M4218-V Dome Camera

(pdf) 1.35 MB

Manuals

---

M42 Series Dome Camera - Installation Guide

(pdf) 3.73 MB