Wearables
Open-platform Axis body worn cameras plug right into any system, and they're robust, lightweight, and easy to use.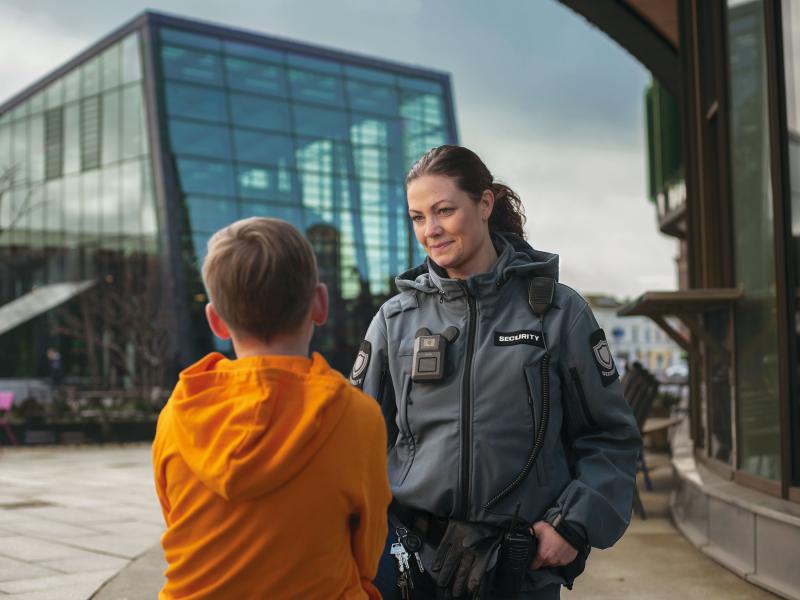 Made for you
Axis body worn cameras deliver sharp images under any circumstances and audio from the center of the action. They're lightweight, robust, water-resistant, and easy to use. They start and stop at a touch and buffer up to 90 seconds before they're switched on. Stealth mode lets you record surreptitiously. You won´t switch them on by accident. And long battery life, USB charging, and fast offloading make them ready to go when you are and a snap to put away. Plus our small, lightweight mini sensors clip right onto headgear with standard Picatinny mounts, so you can record from where it's convenient and unobtrusive.
Open, safe and scalable
Use your Axis body worn cameras with an Axis VMS or a VMS or EMS of your choice. Thanks to Axis Zipstream technology, you can store as much footage as you need without compromising video quality – onsite or in the cloud. There's an app for viewing and labeling material on cell phones.  And evidence is easy to find and retrieve.  Our body worn cameras support official FBI standards for cybersecurity with end-to-end encryption. And open standards and low-cost docking stations with a separate system controller make them flexible, and easy and cost-efficient to scale.
Always ready to record
Worn on the body. Handled a lot. Axis body worn cameras have to be able to take a beating. And they can. We build total quality into Axis products through our meticulous attention to detail. It begins long before we start building cameras and continues throughout the production, configuration and testing of every product. In the design phase, we check that every detail and component is engineered to perform to the highest standard. And we test our finished products both live on-site and in tough simulations.
Explore body worn camera solutions
Body worn solutions from Axis document events and capture valuable evidence. And they're an effective way to deter bad behavior and positively influence the actions of camera wearers and the public alike.
 Read more about what body worn solutions have to offer for your organization.