AXIS P38 Panoramic Camera Series
Seamless, panoramic multisensor cameras
180° multisensor cameras with one IP address
Seamlessly stitched images
Efficient one-camera installation
Day/night functionality
Axis Lightfinder, Forensic WDR and Zipstream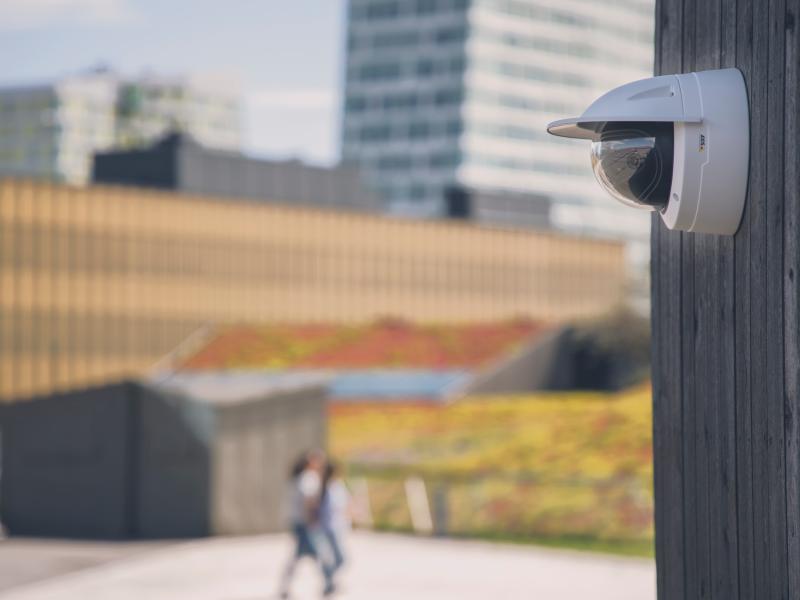 Complete coverage
These multisensor cameras offers seamless stitching of all three images to deliver a coherent-looking image of extensive areas with excellent image usability.
You get 180° horizontal coverage, and 90° vertical coverage with no blind spots. It's possible to mount two cameras back-to-back for a complete 360° overview.
This allows for quick and intuitive situational awareness over a large area and lets the operator visually follow objects across great distances.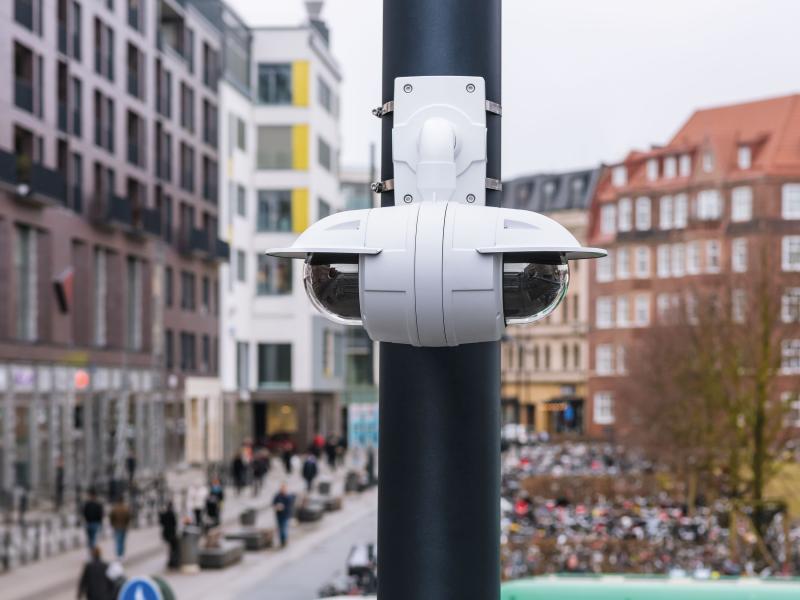 Cost-efficient, flexible, and secure
AXIS P38 Camera Series are cost-efficient cameras that gives you the benefits of three cameras while paying for just one. And, fewer cameras are needed to cover large areas. It offers a wide variety of mounting options – recessed, flush, pendant, or even back-to-back. Additionally, built-in cybersecurity features prevent unauthorized access and safeguard your system.
Compare products
| | AXIS P3807-PVE | AXIS P3818-PVE | AXIS P3827-PVE |
| --- | --- | --- | --- |
| Max video resolution | 4320x1920 | 5120x2560 | 3712x1856 |
| Horizontal field of view | 180 | 180 | 180 |
| Vertical field of view | 90 | 90 | 90 |
| OptimizedIR | – | – | – |
| Day and Night functionality | | | |
| Lightfinder | Lightfinder | Lightfinder | Lightfinder |
| Wide dynamic range | Forensic WDR | Forensic WDR | Forensic WDR |
| Zipstream | | | |
| Alarm inputs/outputs | | 2 | 2 |
| Audio Support | | | |
| Axis Edge Vault | – | | |
Documentation
Datasheet

---

AXIS P3807-PVE Network Camera

(pdf) 397.8 KB

AXIS P3818-PVE Panoramic Camera

(pdf) 1.01 MB

AXIS P3827-PVE Panoramic Camera

(pdf) 1.18 MB

Manuals

---

AXIS P3807-PVE - Installation Guide

(pdf) 2.74 MB

AXIS P3807-PVE - Repainting Instructions

(pdf) 410.56 KB

AXIS P3818-PVE - Installation Guide

(pdf) 4.38 MB

How to - Configure AXIS P3807-PVE in AXIS Camera Station (ACS)

(pdf) 366.32 KB

Installation Guide AXIS P3827 PVE Panoramic Camera

(pdf) 2.5 MB

Repainting instruction AXIS P38 Panoramic Camera Series

(pdf) 252.1 KB

Product comparison tables

---

Product Comparison Tables - Q4 2023

(pdf) 9.16 MB

White papers

---

Horizon straightening

(pdf) 7.81 MB

Panoramic cameras

(pdf) 8.95 MB