Easy to get started
It's easy to license your software, starting with a trial period [1]. During the trial period, AXIS License Manager will know how many devices or other kind of units that are connected to each product, which means you don't have to keep track of anything. So, when the trial period ends and you wish to start a subscription for the product, you know precisely how many licenses to buy based on your usage. And thanks to our generous 30-day grace period, you can enjoy full access to the product until the licenses are purchased and the product is fully licensed.
Grow with confidence
With a subscription license, the total cost of your initial investment is lower while you still have the flexibility to expand as needed. When you have purchased and allocated your initial number of licenses, we offer you an easy and cost-efficient way to grow your solutions incrementally. This generous offer allows you to add devices and stay licensed throughout the year with no additional license costs [2]. 
This gives you a clear overview and full control of all your licenses throughout your subscription year. So, you don't have to worry about unpredicted licensing costs when your solutions grow and will help you plan your budget for next year. All information is summarized and emailed to you with a reminder when it's time to renew your licenses.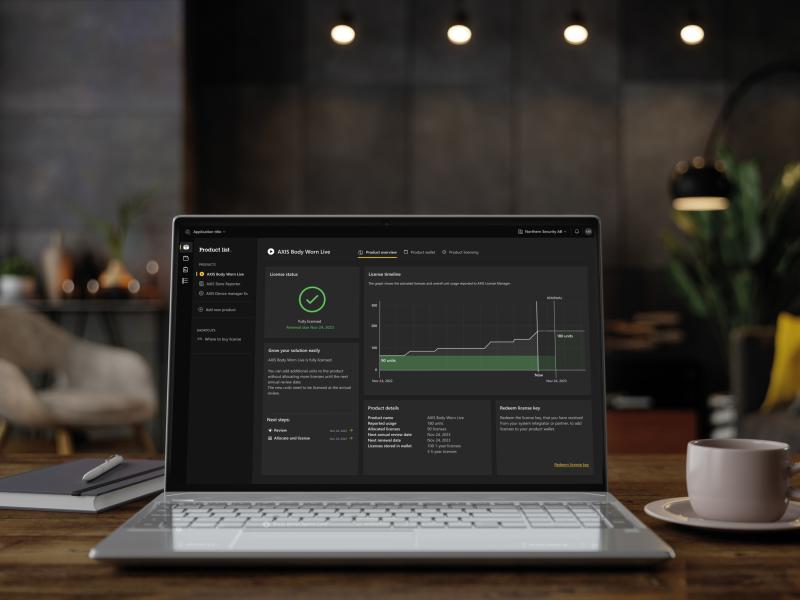 Easy, flexible management
All subscription licenses are managed in AXIS License Manager. This versatile online tool makes license management easy and efficient and allows you to monitor and manage all your licenses – from one central location.
How do I purchase the license?
Below is a list of Axis products that offer a subscription license. To find out more, please visit products listed below. When you are ready to place an order, you can reach out to your local Axis sales office or use our partner locator to find the right Axis partner for you.
The eLicense is delivered electronically, saving on delivery time, shipping costs, and environmental impact. You can order any number of licenses at once, but each product requires a separate order.
note
[1] Some products do not offer a trial period. Licenses for these products must be activated immediately after purchase. The trial period varies depending on the product. Please check specific product for more information.
[2] Axis will monitor any potential misuse of the offer to add additional devices during the subscription year to ensure it's used within reason. Axis reserves the right to add a cap limiting the number of devices that can be added in any such cases of abuse.