AXIS Store Reporter
Dynamic interface for understanding data
Web-based tool
View statistics and graphical representations
Highly customizable reports
Export reports and findings to PDF and Excel®
Export reports and findings to PDF and Excel®
AXIS Store Reporter provides an easy and cost-efficient way to analyze your data and measure performance to help you find actionable insights. This web-based tool gathers data from supported Axis people counting applications and is ideal for multi-camera and multi-site installations.
Actionable insight
Featuring a dynamic dashboard, AXIS Store Reporter provides valuable information that helps you gain an understanding of your visitors and their behavior patterns. This user-friendly tool can provide you with statistics such as visitor traffic, queue lengths and occupancy levels over time. This useful insight can help you analyze performance and make informed decisions to optimize resource allocation, operating hours and operational efficiency. It can also help support business cases for resource and expenditure budgets. And what's more, you can access the data from any platform, including desktops, tablets and smartphones using any operating system.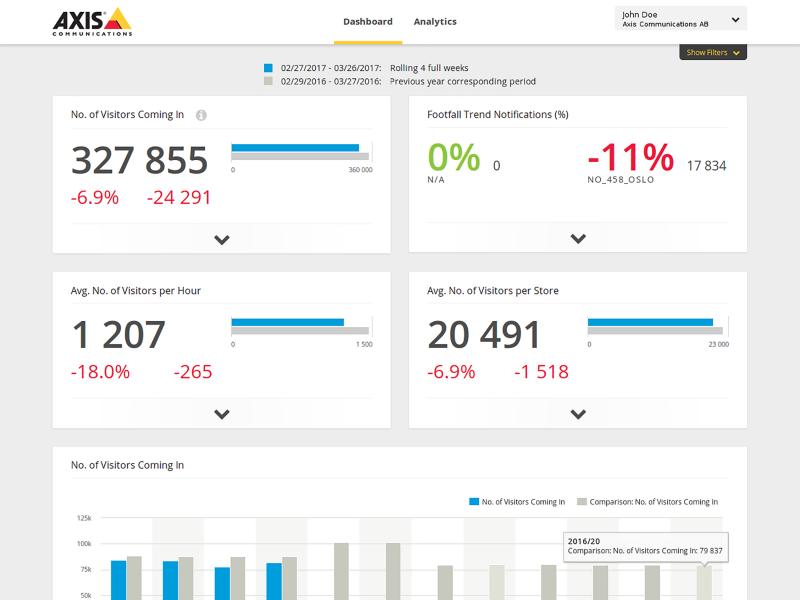 Customized reports
AXIS Store Reporter is designed to give you full control of your data. It provides an overview of statistics and graphical representations from different locations and camera units with different embedded applications in one central place. The dynamic dashboard shows KPIs and charts of your choice and lets you filter, group, compare and drill-down data from multiple sites for specified time periods. It can also integrate weather data, allowing you to analyze the impact of weather conditions on your visitor trends. All reports, including the dashboard itself, are exportable to formats such as PDF and Excel®, allowing you to instantly share valuable insights via email.
License information
Try AXIS Store Reporter and enjoy the full software for free with our 60-day trial. When the trial has ended, find your nearest reseller to purchase a license.
One AXIS Store Reporter license is required per camera*. The license is subscription-based and fully managed in AXIS License Manager. The eLicense is delivered electronically, saving on delivery times, shipping costs, and the environmental impact.
* Only one license is required when two cameras are connected to cover a wide entrance because only one camera reports the data.
Axis subscription
Enjoy continuously updated and supported software for one year.
AXIS License Manager
Centralized license management. From anywhere.
AXIS Store Reporter demo
Tour a demo site to see what AXIS Store Reporter offers.
Compatible products
Customize, enhance and add functionality to your solution.
How to buy
Axis solutions and individual products are sold and expertly installed by our trusted partners.
Want to buy Axis products?
Find resellers, system integrators and installers of Axis products and systems.
Find a reseller
Want to sell Axis products?
Interested in becoming a reseller? Find contact information for distributors of Axis products and systems.
Find a distributor
Become a partner
Are you a reseller, distributor, system integrator or installer? We have partners in nearly every country in the world. Find out how to become one!
Become a partner
Part number for ordering
| Name | Axis region | Part number |
| --- | --- | --- |
| AXIS Store Reporter 1y eLicense | AR, AU, BR, CN, EU, IN, JP, KR, UK, US | 02473-001 |
Support and resources
Need Axis product information, software, or help from one of our experts?
Supporting documents
Get datasheets, manuals, specifications and other resources for this product.
Go to product support
Technical support
Contact our support staff for efficient, one-on-one assistance with your Axis products.
Get in touch