AXIS A8207-VE Mk II Network Video Door Station
Multifunctional device for better security solutions
Full-featured 6 MP IP camera
Integrated RFID reader with keypad for use with access control systems
Acoustic echo cancellation and noise reduction
Support for HID® iClass®
Enhanced cybersecurity with Signed firmware and Secure Boot
AXIS A8207-VE MkII Network Video Door Station combines video surveillance, two-way communication and the possibility for access control integration, combined with an Axis network door controller. It can easily be combined with other systems within your security solution to meet your specific needs. 
The best of three worlds
AXIS A8207-VE MkII is three top-of-the-line security solutions in one, which eliminates the need for additional equipment around your entrances. For clear two-way communication between personnel and all visitors, it offers echo cancellation, noise reduction and an induction loop for hearing aids. It also has an integrated access control reader (RFID) for integration with your access control system, managing employee access that allows for remote entrance control using your computer, desk phone or mobile device.
There are superior network surveillance capabilities in the form of a full-featured 6 MP security camera with advanced technologies like wide dynamic range, Axis Zipstream and ACAP support for intelligent analytics. It also includes a multifunctional PIR sensor, for example to detect approaching individuals and then trigger events like a recording or a verbal greeting. Third party audio analytics can be integrated to trigger audio warnings or recordings for instance if the sound of gunshots or aggression is detected. And built-in tamper detectors can trigger events if someone attempts to gain access by manipulating the door station. AXIS A8207-VE MKII also has enhanced cyber security providing signed firmware with Secure Boot.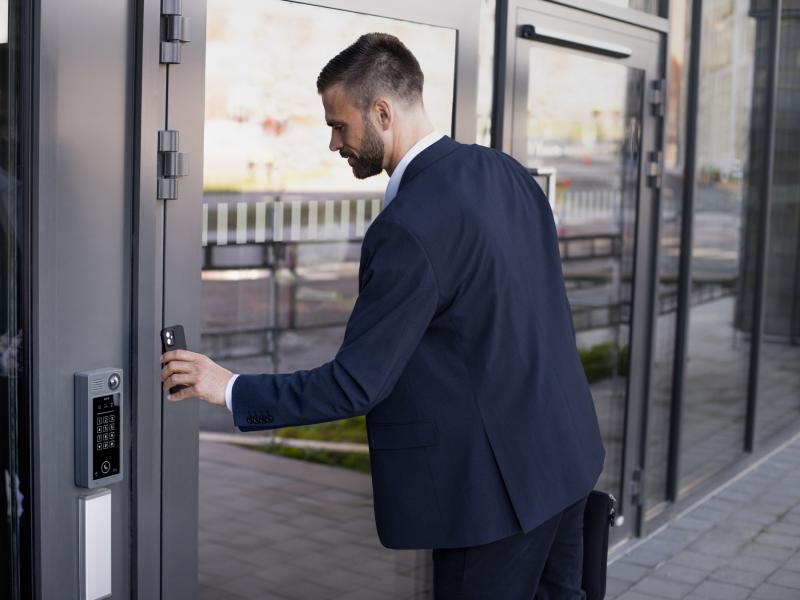 Truly open is truly smart
AXIS A8207-VE MkII offers true openness, which means you're not dependent on proprietary hardware or software letting you choose from the supplier of your choice. AXIS A8207-VE MkII is built on an open platform, so you can integrate your access control solution with a long list of other systems and solutions for video surveillance, access control and VoIP communication. It features a multitude of ports, relays and supported protocols that allow you to connect external sensors, activate lights, open doors, trigger cameras, or sound alarms. It even has an HDMI output that lets you mount any standard screen on the inside of the door, creating a virtual window to see if it safe to go out.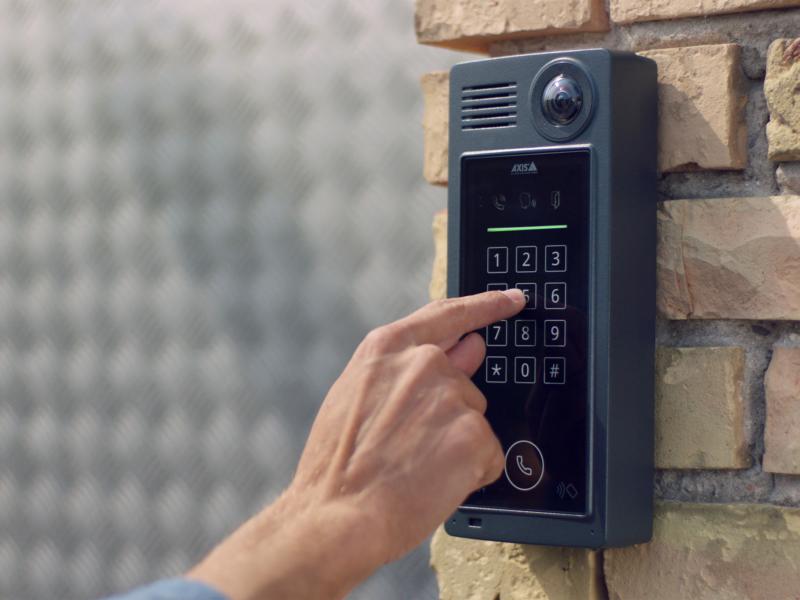 Easy accessibility for one and all
AXIS A8207-VE MkII operates as a card and pin code reader for admitting employees and other authorized individuals without other intervention. Unknown visitors can use the door station keypad to call reception, the person they are visiting or security personnel and request access. Call recipients can then see, talk to and open the door for those visitors directly or remotely from wherever they are using a cell phone, IP phone or video management system. 
Technical specifications
Models: AXIS A8207-VE Mk II
| | |
| --- | --- |
| Property description | Property value |
| Max video resolution | 3072x2048 |
| Horizontal field of view | 180 ° |
| Min illumination/ light sensitivity (Color) | 0.55 lux |
| Built-in IR | – |
| Alarm inputs/outputs | 4 |
| Relays | 2 |
| HDMI Output | Yes |
| Wide dynamic range | Forensic WDR |
| Zipstream | Yes |
| Vandal rating | IK08 |
| Operating temperature | -40 to 55 °C |
| Outdoor Ready | Yes |
| IP rating | IP66 |
Discontinued products
The following compatible products have been discontinued.
Edge storage
Power
Video decoders
How to buy
Axis solutions and individual products are sold and expertly installed by our trusted partners.
Want to buy Axis products?
Find resellers, system integrators and installers of Axis products and systems.
Find a reseller
Want to sell Axis products?
Interested in becoming a reseller? Find contact information for distributors of Axis products and systems.
Find a distributor
Become a partner
Are you a reseller, distributor, system integrator or installer? We have partners in nearly every country in the world. Find out how to become one!
Become a partner
Part number for ordering
| Name | Axis region | Part number |
| --- | --- | --- |
| AXIS A8207-VE Mk II | US, UK, KR, JP, IN, EU, CN, BR, AU | 02026-001 |
Support and resources
Need Axis product information, software, or help from one of our experts?
Documentation and software
Get product-specific information, firmware and software.
Go to documentation and software
Technical support
Contact our support staff for efficient, one-on-one assistance with your Axis products.
Get in touch
Axis 5-year warranty
Get information and details on your 5-year product warranty.
Go to warranty