AXIS Q35 Network Camera Series
Advanced domes for solid performance
HDTV video quality – from 1080p to 4K
Forensic WDR, Lightfinder and OptimizedIR
Electronic Image Stabilization
Axis Zipstream technology
IK10+ (50 joules) impact-resistant outdoor models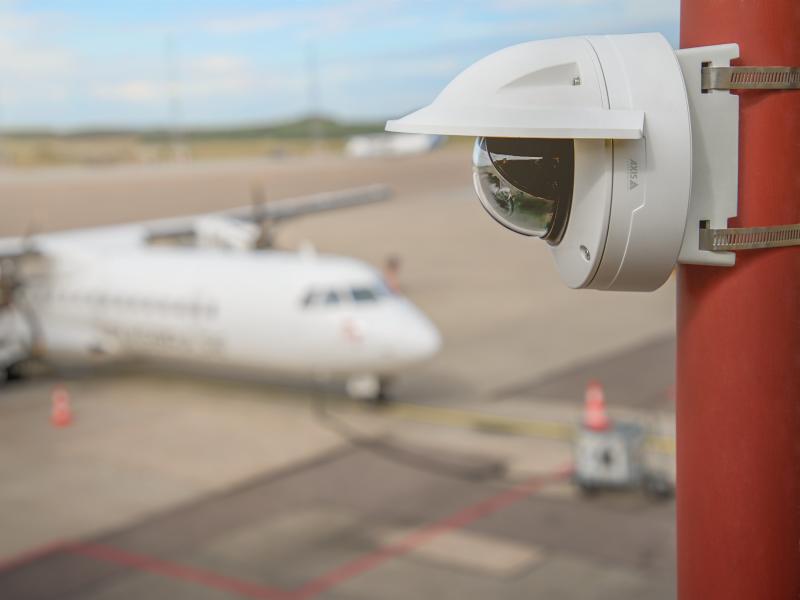 Top-of-the-line image usability
AXIS Q35 Series consists of high-performing, vandal-resistant, indoor and outdoor-ready fixed domes that deliver excellent image quality in up to 4K resolution. The cameras' have Axis Forensic WDR to ensure perfectly balanced video quality in scenes with strong variations in light, while the Lightfinder technology enables outstanding image usability in poor light. AXIS Q35 Series also supports Axis Electronic image stabilization, EIS, which greatly improves video quality and keeps the bitrate down in situations where the camera is subject to vibration. Furthermore, there are cameras with optical zoom that can be used when monitoring a scene.
Reliable operation and installation
The indoor models have IK10 impact resistance and IP52-rated dust and water protection. The outdoor-ready models have an IK10+ rating and have been tested to ensure that they can withstand a minimum of 50 joules of impact. All models are vibration- and shock-resistant. The cameras have been designed for efficient installation with features such as versatile cable management, remote zoom and focus, leveling assistant and auto rotation. AXIS Q35 Series fixed domes are ideal for high-security applications in areas such as cities, airports, railway stations, and industrial and critical infrastructure facilities.    
Compare products
| | AXIS Q3515-LV | AXIS Q3515-LVE | AXIS Q3517-LV | AXIS Q3517-LVE | AXIS Q3517-SLVE | AXIS Q3518-LVE | AXIS Q3527-LVE |
| --- | --- | --- | --- | --- | --- | --- | --- |
| Max video resolution | 1920x1080/1920x1080 | 1920x1080/1920x1080 | 3072x1728 | 3072x1728 | 3072x1728 | 3840x2160 | 3072x1728 |
| Horizontal field of view | 105 - 36/36 - 15 | 105 - 36/36 - 15 | 96 - 50 | 96 - 50 | 96 - 50 | 93-48 | 96-50 |
| Lightfinder | Lightfinder/Lightfinder | Lightfinder/Lightfinder | Lightfinder | Lightfinder | Lightfinder | Lightfinder | Lightfinder |
| OptimizedIR | | | | | | | |
| Wide dynamic range | Forensic WDR | Forensic WDR | Forensic WDR | Forensic WDR | Forensic WDR | Forensic WDR | Forensic WDR |
| Two-way audio | | | | | | | |
| Alarm inputs/outputs | 2 | 2 | 2 | 2 | 2 | 2 | 2 |
| Remote zoom | | | | | | | |
| Remote focus | | | | | | | |
| Zipstream | | | | | | | |
| Electronic image stabilization | | | | | | | |
| Analytics compute capability | | | | | | | |
| TPM | – | – | – | – | – | – | |
| Axis Edge Vault | – | – | – | – | – | – | – |
| Vandal rating | IK10 | IK10+ | IK10 | IK10+ | IK10+ | IK10+ | IK10+ |
Documentation
Datasheet

---

AXIS Q3515-LV Network Camera

434.65 KB

AXIS Q3515-LVE Network Camera

526.63 KB

AXIS Q3517-LV Network Camera

432.14 KB

AXIS Q3517-LVE Network Camera

524.19 KB

AXIS Q3517-SLVE

681.54 KB

Manuals

---

Axis Coverage Shapes for Microsoft Visio - list of supported products (version 1.4.14)

70.37 KB

AXIS Q35 Series - Repainting Instruction

312.46 KB

AXIS Q35-LVE Series - Installation Guide

10.67 MB

AXIS Q35-LVE Series - Installation Guide

10.67 MB

AXIS Q3515-LV - Installation Guide

7.98 MB

AXIS Q3517-LV - Installation Guide

3.79 MB

AXIS Q3517-SLVE - Installation Guide

3.99 MB

How to assign an IP address and access your device

175.08 KB

Product comparison tables

---

Product Comparison Tables - Q1 2022

3.96 MB

Product Comparison Tables - Q3 2021

3.74 MB

Product Comparison Tables - Q4 2021

3.69 MB