AXIS C1004-E Network Cabinet Speaker
Copy the product name
Copied
All-in-one speaker for voice messages
All-in-one speaker system
Connects to standard IT network
Simple installation with PoE
Remote health testing
Scalable and easy to integrate
AXIS C1004-E Network Cabinet Speaker makes audio announcements smart and easy. Use it to proactively warn off intruders or provide instructions with voice messages. AXIS C1004-E can be mounted horizontally or vertically and it's possible to install it on the exterior of buildings, for instance under the eaves, where it's not directly exposed to the elements. It's ideal for installation in schools, offices, stores, and hospitals. 
Audio made easy
AXIS C1004-E is a complete high-quality audio system in a single unit with a built-in power amplifier and digital signal processor (DSP). There's no need for additional audio equipment. And it's preconfigured, so it delivers clear, understandable voice messages right out of the box. Onboard memory supports pre-recorded messages. Or, security personal can respond to notifications or provide instructions with live speak. Our AXIS Audio Manager Edge application is pre-installed on AXIS C1004-E. It lets you efficiently manage and control your audio system and supports zone management, scheduling of content as well as speaker health monitoring.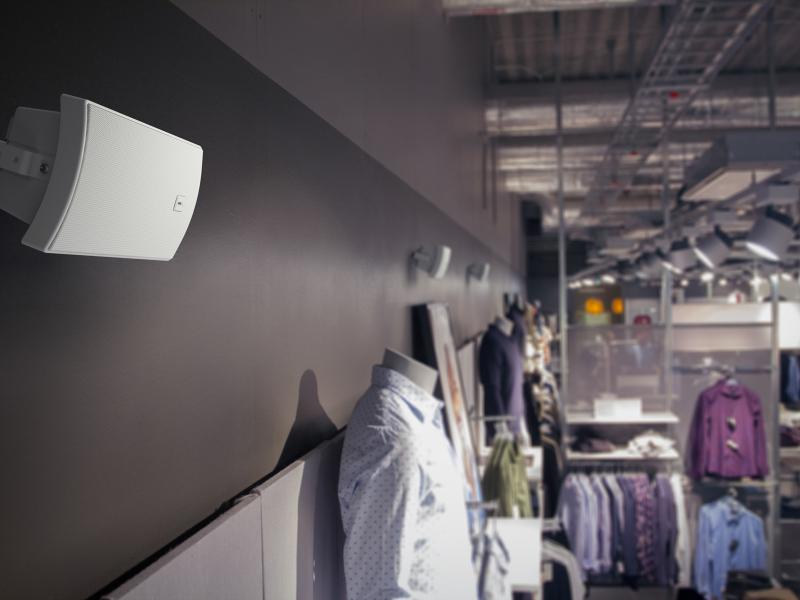 Audio that's flexible and scalable
AXIS C1004-E is a true IT device that connects to your standard network and uses one standard network cable for both power (Power over Ethernet) and connectivity.  It's based on open standards, for easy integration with your video management software (VMS), with Voice over IP (VoIP) telephony (using SIP), and with analytics from Axis and our partners. And because it's an all-in-one unit with a preconfigured digital signal processer (DSP), you can add more speakers without expert technical assistance or additional equipment.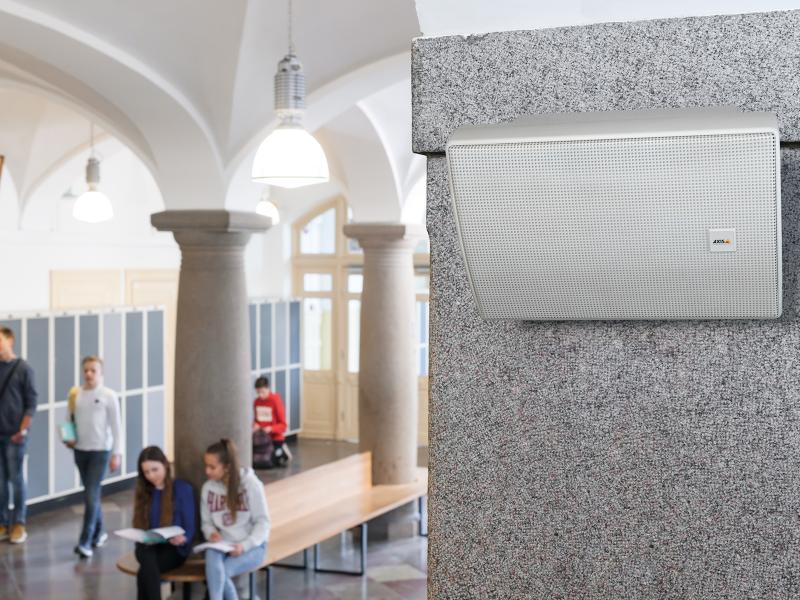 Audio that's clear every time
AXIS C1004-E delivers clear speech you can hear and understand. Network audio technology and the built-in preconfigured digital signal processer in every speaker ensure it. Whether you choose to use remote audio with pre-recorded event-triggered messages, let your personnel respond with live speak, or simply to deliver instructions, you always enjoy excellent sound quality. And, of course, you can also use AXIS C1004-E to play background music that sounds just as good.
Compatible products
To find a compatible product, simply use the filters below.
Discontinued products
The following compatible products have been discontinued.
Audio management software
Edge storage
How to buy
Axis solutions and individual products are sold and expertly installed by our trusted partners.
Want to buy Axis products?
Find resellers, system integrators and installers of Axis products and systems.
Find a reseller
Want to sell Axis products?
Interested in becoming a reseller? Find contact information for distributors of Axis products and systems.
Find a distributor
Become a partner
Are you a reseller, distributor, system integrator or installer? We have partners in nearly every country in the world. Find out how to become one!
Become a partner
Part number for ordering
| Name | Axis region | Part number |
| --- | --- | --- |
| AXIS C1004-E White | AR, AU, BR, CN, EU, IN, JP, KR, UK, US | 0833-001 |
| AXIS C1004-E Black | AR, AU, BR, CN, EU, IN, JP, KR, UK, US | 0923-001 |
Download
note
AXIS Player for Soundtrack Business is an application which gives you access to Soundtrack Your Brand platform.
Support and documentation can be found here.
With our ACAP for Syn-Apps Revolution Notification Platform you can easily use Axis audio devices with Syn-Apps mass notification system.
Support and resources
Need Axis product information, software, or help from one of our experts?
Documentation and software
Get product-specific information, firmware and software.
Go to documentation and software
Technical support
Contact our support staff for efficient, one-on-one assistance with your Axis products.
Get in touch
Axis 5-year warranty
Get information and details on your 5-year product warranty.
Go to warranty