AXIS T91L61 Wall-and-Pole Mount
For quick wall and pole installations
Versatile connection with IDC connector
Built-in IP66 RJ45 connector
For wall and pole mounting
Protection against impact, water, dust, and corrosion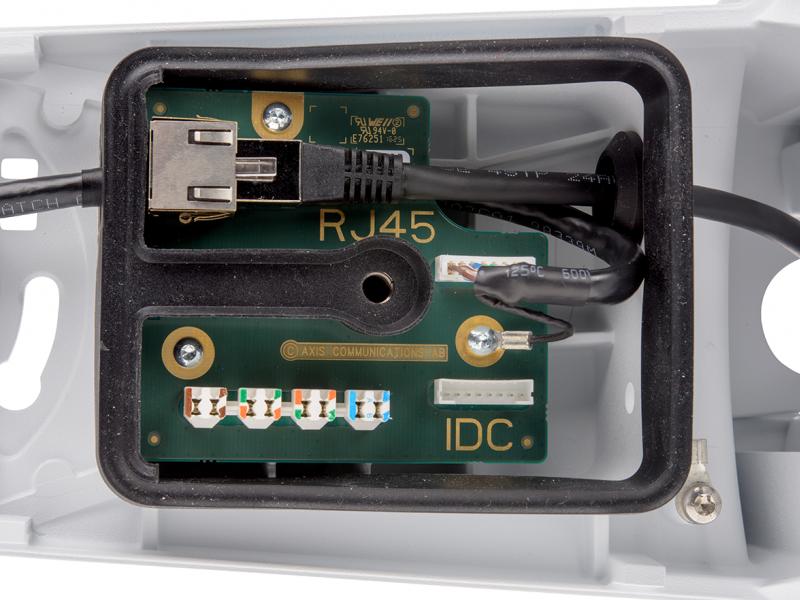 Versatile connection with RJ45 or IDC
AXIS T91L61 Wall-and-Pole Mount gives the installer a choice of using either RJ45 or IDC (insulation-displacement contact) connector for the installation. It comes with a built-in cable with an Ethernet IP66 RJ45 connector, which facilitates the installation and prevents water and dust to enter the network camera.
Flexible installation
Thanks to its impact-resistant and outdoor proven material, AXIS T91L61 Wall-and-Pole Mount suits both indoor and outdoor environments. Flipping the mounting bracket makes it possible to turn AXIS T91L61 from a wall mount to a pole mount (AXIS Steel Straps TX30 are required). The mount is also suitable for corner mounting with an optional accessory.
Discontinued products
The following compatible products have been discontinued.
Fixed dome cameras
Mounts
PTZ cameras
Panoramic cameras
Tools & extras
How to buy
Axis solutions and individual products are sold and expertly installed by our trusted partners.
Want to buy Axis products?
Find resellers, system integrators and installers of Axis products and systems.
Find a reseller
Want to sell Axis products?
Interested in becoming a reseller? Find contact information for distributors of Axis products and systems.
Find a distributor
Become a partner
Are you a reseller, distributor, system integrator or installer? We have partners in nearly every country in the world. Find out how to become one!
Become a partner
Part number for ordering
| Name | Axis region | Part number |
| --- | --- | --- |
| AXIS T91L61 Wall-and-Pole Mount | AR, AU, BR, CN, EU, IN, JP, KR, UK, US | 5801-721 |
Support and resources
Need Axis product information, software, or help from one of our experts?
Documentation and software
Get product-specific information, firmware and software.
Go to documentation and software
Technical support
Contact our support staff for efficient, one-on-one assistance with your Axis products.
Get in touch
Axis 3-year warranty
Get information and details on your 3-year product warranty.
Go to warranty