AXIS Barcode Reader
QR code reader for seamless access
Reliable, cost-effective QR code reader
IP solution—no physical wiring
Scalable and edge-based
Single- and multi-door support
Flexible and future-proof
Streamline the management of temporary access with this scalable, easy-to-install edge-based application that turns selected Axis intercoms and cameras into a QR Code® reader for cost-efficient, reliable access control.
note
QR Code is a registered trademark of Denso Wave Incorporated in Japan and other countries.
Simple to install, seamless to use
Meet the needs of a mobile-first society with AXIS Barcode Reader, an IP-based reader solution that makes fast and reliable QR code access possible with a range of Axis cameras and intercoms. Simply create and email a QR code with a specific date and time of validity to trusted visitors, who can print it or store it on their mobile device. On arrival, they present it to the Axis camera or intercom, where optimized image quality combines with smart analytics and edge-based processing to recognize the credential. Relevant data is then sent to an Axis door controller, granting access.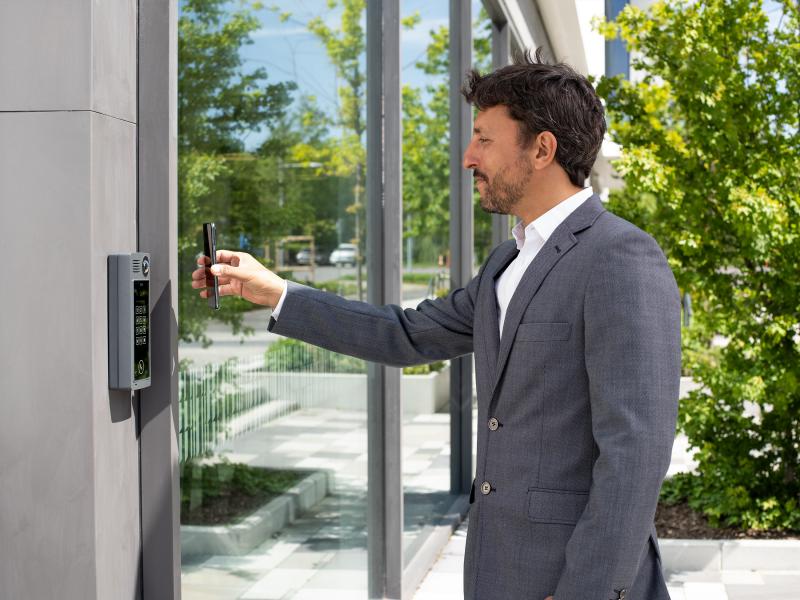 Flexible, cost-effective access management
AXIS Barcode Reader brings fast, reliable QR code access to your existing access control solution. This video analytics app enables Axis network cameras or intercoms to function as QR code readers, unlocking multiple doors equipped with Axis door controllers. Installation is quick and easy, reducing overhead. Additionally, credentials are cost-effective to generate and manage—you never need to invest in purchasing, printing, handling, or disposing of physical cards or fobs. The reader functions seamlessly as part of an Axis end-to-end solution, but it's easy to integrate with third-party systems, ensuring maximum flexibility for you.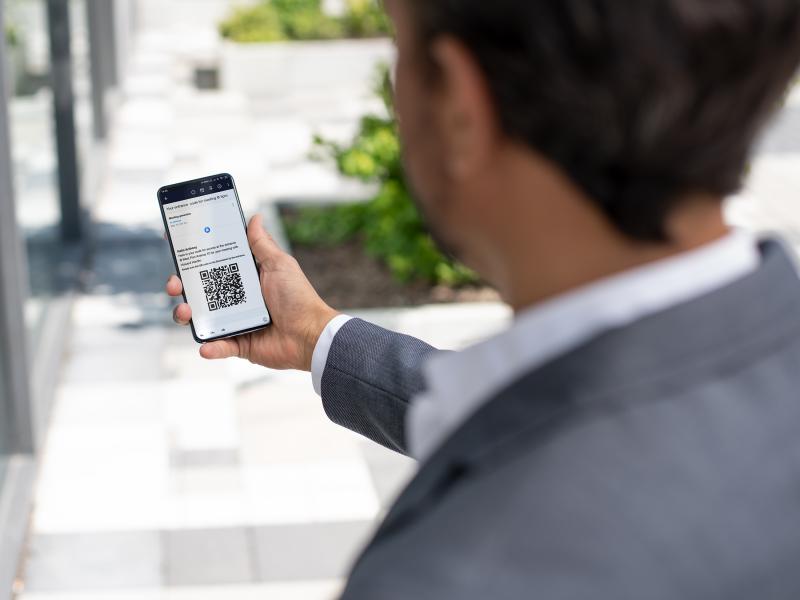 Easy on the environment
AXIS Barcode Reader is an access control management solution with a smaller environmental footprint than last-gen solutions. With digital credentials taking the place of physical cards and fobs in your access control system, the impacts of generating plastic objects—and disposing of them—is eliminated. Because the barcode reader is based on AXIS Camera Application Platform (ACAP) and operates on the edge, it demands less energy. Just as importantly, ACAP applications are compatible with a range of devices, so they can often be installed on your existing cameras or intercoms, eliminating the need to acquire new devices.
Compatible products
Customize, enhance and add functionality to your solution.
note
The application can be installed on compatible Axis intercom or cameras with firmware 10.5 or higher. If your camera does not have the latest firmware, see how to upgrade the firmware and then find the latest firmware for your camera here.
Fixed dome cameras
Modular cameras
Network intercoms
No matches
Discontinued products
The following compatible products have been discontinued.
Fixed dome cameras
Network intercoms
How to buy
Axis solutions and individual products are sold and expertly installed by our trusted partners.
Want to buy Axis products?
Find resellers, system integrators and installers of Axis products and systems.
Find a reseller
Want to sell Axis products?
Interested in becoming a reseller? Find contact information for distributors of Axis products and systems.
Find a distributor
Become a partner
Are you a reseller, distributor, system integrator or installer? We have partners in nearly every country in the world. Find out how to become one!
Become a partner
Part number for ordering
| Name | Axis region | Part number |
| --- | --- | --- |
| AXIS Barcode Reader eLicence | AR, AU, BR, CN, EU, IN, JP, KR, UK, US | 02524-001 |
Download
AXIS Barcode Reader
The latest version of this software is 1.1.2
Login to download - Integrity checksum:
Support and resources
Need Axis product information, software, or help from one of our experts?
Supporting documents
Get datasheets, manuals, specifications and other resources for this product.
Go to product support
Technical support
Contact our support staff for efficient, one-on-one assistance with your Axis products.
Get in touch