AXIS A8105-E Network Video Door Station
Copy the product name
Copied
Small and powerful door security
High quality audio and video
Axis' Digital Corridor Format
Remote entry control 
SIP support
Zipstream
AXIS A8105-E Network Video Door Station is a full-fledged security camera, a powerful communication device, and a convenient door opener in a single device. A natural complement to your surveillance solution. 
Small and convenient
Measuring only 48 mm (1.89 in.) across, AXIS A8105-E fits where you want it to go – on walls, doorframes and mullions. A flush mounting accessory enables recessed mounting in walls. AXIS A8105-E also features Axis' Digital Corridor Format, which makes it easy to adjust the viewing area to the location and increase the vertical area of view. Factory focus and support for PoE make installation fast and flexible, keeping costs low.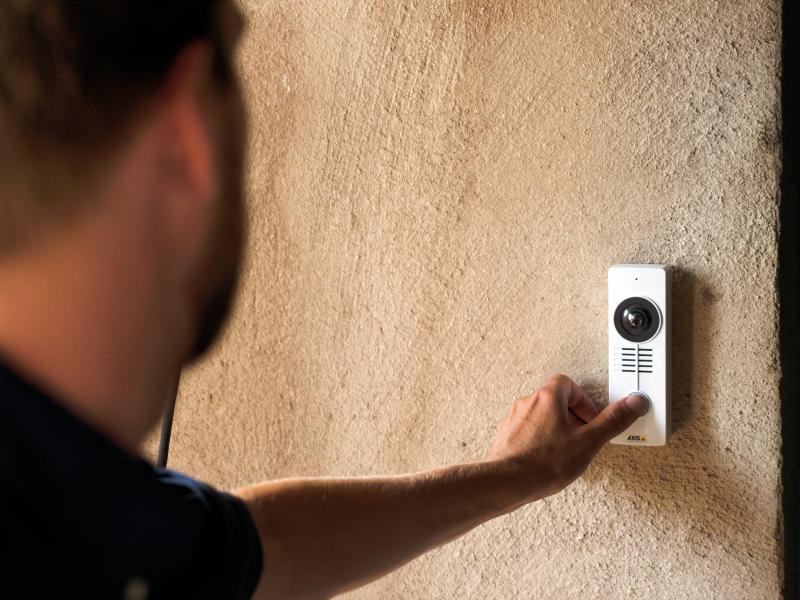 Keep your premises secure
With AXIS A8105-E you get clear communication, high-quality video surveillance, and convenient remote entry control in a single unit. You can see, talk to, identify, and open the door to visitors directly or remotely from wherever you are, using your mobile device, IP phone or VMS to do it. 
HDTV 1080p resolution and WDR – Forensic Capture deliver uncompromised visual identification even with strong backlight – and LED lights provide light to see visitors at night.  Acoustic echo cancellation and noise suppression make voices audible regardless of background noise thanks to uncompromised full duplex audio. 
A powerful surveillance solution
AXIS A8105-E doesn't just let you identify and control who enters your premises, it connects to your system just like any other surveillance camera and records what's happening outside your door. Integrated video analytics, such as AXIS Video Motion Detection, alert you of threatening events or vandalism so you can call for help – and you'll have a visual record of the incidents. In addition, AXIS Camera Application Platform allows you to easily integrate other video and audio applications from our partners that improve surveillance systems and facilitate investigation..
Small and powerful
Watch the high quality footage captured by AXIS A8105-E Network Video Door Station.
Technical specifications
| | |
| --- | --- |
| Max video resolution | 1920x1200 |
| Horizontal field of view | 180 ° |
| Min illumination/ light sensitivity (Color) | 0.4 lux |
| Built-in IR | – |
| Alarm inputs/outputs | 2 |
| Relays | 1 |
| HDMI Output | – |
| Wide dynamic range | Forensic Capture |
| Zipstream | Yes |
| Vandal rating | – |
| Operating temperature | -25 to 55 °C |
| Outdoor Ready | Yes |
| IP rating | IP65 |
Accessories
To find the right accessory, simply use the filters below.
How to buy
Axis solutions and individual products are sold and expertly installed by our trusted partners.
Want to buy Axis products?
Find resellers, system integrators and installers of Axis products and systems.
Find a reseller
Want to sell Axis products?
Interested in becoming a reseller? Find contact information for distributors of Axis products and systems.
Find a distributor
Become a partner
Are you a reseller, distributor, system integrator or installer? We have partners in nearly every country in the world. Find out how to become one!
Become a partner
Part number for ordering
| Name | Axis region | Part number |
| --- | --- | --- |
| AXIS A8105-E | AR, AU, BR, CN, EU, JP, KR, UK, US | 0871-001 |
Support and resources
Need Axis product information, software, or help from one of our experts?
Documentation and software
Get product-specific information, firmware and software.
Go to documentation and software
Technical support
Contact our support staff for efficient, one-on-one assistance with your Axis products.
Get in touch
Axis 5-year warranty
Get information and details on your 5-year product warranty.
Go to warranty