AXIS F Modular Camera Series
Rugged and completely modular cameras for almost any environment
Flexible, rugged design
1- and 4-channel main units
Multiple sensor choices
WDR and Zipstream
Broad portfolio of original and evolved modular cameras
2nd generation AXIS F Series
Our latest generation of AXIS F Series offers a range of high-performance modular cameras designed for indoor-, outdoor- and onboard surveillance. This latest generation ensures discreet surveillance with easy integration. It includes two rugged main units, two UL recognized barebone main units, and five ruggedized sensors. Based on a divided camera concept, the main unit, sensor, and cable (up to 30 m /98 ft.) are chosen based on individual needs for a fully modular system. They're ideal for installation in ATMs, banks, stores, hotels, as well as onboard environments such as emergency vehicles, buses, and trucks.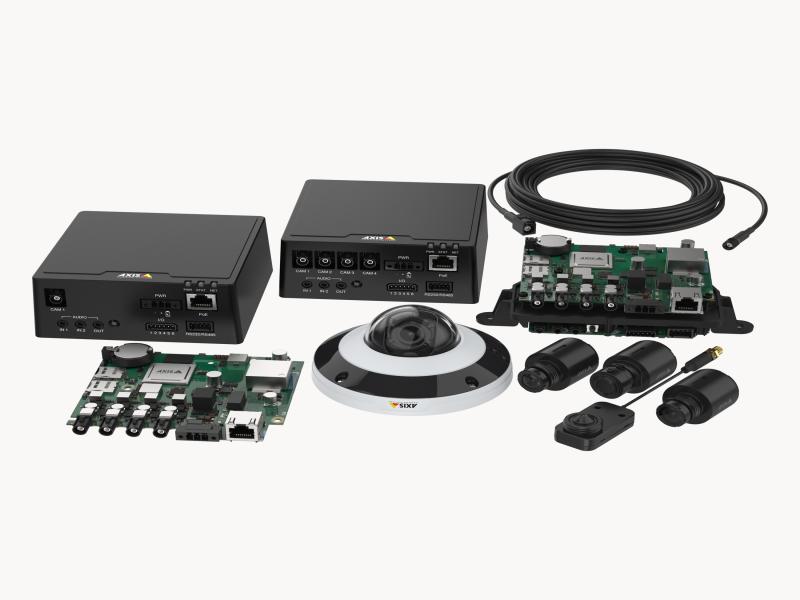 Good just got even better...
Built on the ARTPEC 7 system-on-chip (SoC), this latest generation of AXIS F Series modular cameras offers many improvements. For instance, it includes Forensic WDR to preserve forensic detail when there's both light and dark areas in a scene. With ruggedized SMA connectors on the sensors and FAKRA connectors on the main units, this latest generation is ideal for high vibration environments and ensures tight connection between the cable and sensor as well as the cable and main unit. Additionally, it allows you to completely remove the sensor from the cable for easy maintenance. Plus, with additional cable length options (up to 30m/98ft available) and cables for different applications, you're free to design a modular camera solution based on your own specific needs.
Compare products
Main units
Sensor units
| | AXIS F2105-RE Standard Sensor | AXIS F2115-R Varifocal Sensor | AXIS F2135-RE Fisheye Sensor | AXIS F4105-LRE Dome Sensor | AXIS F7225-RE Pinhole Sensor |
| --- | --- | --- | --- | --- | --- |
| Outdoor Ready | | – | | | |
| Horizontal field of view | 108 | 107.4 - 56.3 | 185 | 110 | 92 |
Documentation
Datasheet

---

AXIS F2105-RE Standard Sensor

(pdf) 572.36 KB

AXIS F2115-R Varifocal Sensor

(pdf) 576.64 KB

AXIS F2135-RE Fisheye Sensor

(pdf) 584.77 KB

AXIS F4105-LRE Dome Sensor

(pdf) 633.2 KB

AXIS F7225-RE Pinhole Sensor

(pdf) 196.7 KB

AXIS F9104-B Main Unit

(pdf) 691.83 KB

AXIS F9111 Main Unit

(pdf) 465.8 KB

AXIS F9114 Main Unit

(pdf) 482.14 KB

AXIS F9114-B Main Unit

(pdf) 925.76 KB

Manuals

---

AXIS F2105-RE and F2135-RE - Installation Guide

(pdf) 1.01 MB

AXIS F9104-B Main Unit - Installation Guide

(pdf) 2.02 MB

AXIS F9111 Main Unit - Installation Guide

(pdf) 1.14 MB

AXIS F9114 Main Unit - Installation Guide

(pdf) 1.18 MB

AXIS F9114-B Main Unit - Installation Guide

(pdf) 2.46 MB

Drill template AXIS P39 camera series

(pdf) 821.55 KB

Installation Guide AXIS F2115-R Varifocal Sensor

(pdf) 1.24 MB

Installation Guide AXIS F4105 LRE Dome Sensor

(pdf) 3.2 MB

Installation Guide AXIS F7225 RE Pinhole Sensor

(pdf) 1.14 MB

Product comparison tables

---

Product Comparison Tables - Q4 2023

(pdf) 9.16 MB